Masters students raise funds for HIV charity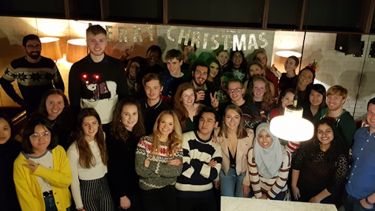 Students from the Department of Molecular Biology and Biotechnology have been getting creative to raise funds for the Terrence Higgins Trust (THT), the UK's leading HIV and sexual health charity.
Current MSc Human and Molecular Genetics students Beth and Magda are Course Reps for the programme and Beth also holds a role as a Student Ambassador for the Terrence Higgins Trust alongside coursemate, Chandler, so the group decided to pool their socials and efforts in order to raise money for the charity.
So far the group have raised over £600 for the THT who aim to remove the stigmatisation around HIV whilst raising awareness of the disease. Activities have included a pizza night, a Christmas quiz social and a bake sale on campus. The biggest event so far took place on World Aids Day where Beth and Chandler sat on a panel, worked in collaboration with the University Film Unit Society to host film showings, and raised additional awareness of HIV and the important work that THT does.
Beth said: "I had been looking to get involved in some charity work during my MSc year and Chandler had worked with THT before, so we thought it would be a great idea to combine our science backgrounds with some fundraising in order to raise awareness for the amazing work that the THT does. Magda and I chose to organise a Christmas Social for our course and decided it would be a great idea to combine this with some fundraising for the charity - the social was a huge success and we were able to raise over £300!"
Future fundraising efforts are likely to see the students hiking in the Peak District and a celebratory BBQ in the summer to mark the end of their studies.
A world top-100 university
We're a world top-100 university renowned for the excellence, impact and distinctiveness of our research-led learning and teaching.