Sheffield students scoop 'Best Project' award at international synthetic biology competition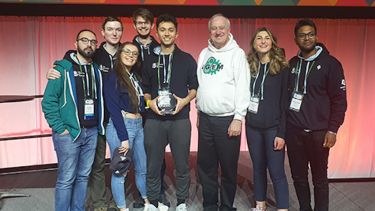 The iGEM competition is an international innovation event which sees over 370 teams from across the globe compete to solve a real-world problem using synthetic biology, engineering and entrepreneurship. Teams are comprised of students from across the world, led by PhD supervisors and academic advisors.
This year's Sheffield team was made up of eight students from the faculties of Science and Engineering, studying: Molecular Biology and Biotechnology, Bioengineering, Computer Science, Chemical and Biological Engineering and Automatic Control and Systems Engineering. Their project, which lasted for six months, aimed to create an affordable, DIY, open-source microplate reader that can measure bacterial growth as well as colour changes related to the activity of various enzymes at 600 nm.
After much research, the team discovered that rather than targetting university labs, creating a product that made microplate readers accessible to schools would be more beneficial, enabling students to gain valuable experimental experience prior to studying at university. This is often not possible due to high-cost barriers associated with equipment, with many Absorbance-only microplate readers costing around £4,000 in contrast to the team's OPENLUX solution which costs under £200.
Third-year BSc Biochemistry student and Vice President of the team Federica Pastorelli said: "Apart from the academic skills, iGEM gave me a unique chance to develop new skills by being involved in fundraising, managing a £25,000 budget, and running team recruitment." Team member and first-year BSc Biochemistry student Sophie Ball added: "iGEM has not only allowed me to improve on my pre-presentation preparation and presentation delivery, but it also gave me a good insight into what a "real job" is like."
A global reputation
Sheffield is a research university with a global reputation for excellence. We're a member of the Russell Group: one of the 24 leading UK universities for research and teaching.