Dr David Turton
Associate Lecturer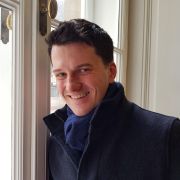 Profile

Career history

2019 - present: University Teaching Associate – School of Biosciences, The University of Sheffield
2017 - 2019: Teaching Technician – Department of Molecular Biology and Biotechnology, The University of Sheffield
2014 - 2017: Postdoctoral Research Associate – Department of Biomedical Science, The University of Sheffield
2014 PhD – The S-phase specific function of the RNA helicase Upf1 – Department of Biomedical Science, The University of Sheffield
2013 MRC Early Career Fellowship - Department of Biomedical Science, The University of Sheffield
Publications
Teaching interests

Upon completing my MBiomedSci undergraduate degree at the University of Sheffield, the data generated during my final year research project formed the basis of my PhD studies, where I investigated the role of mRNA regulatory proteins the maintenance of genomic stability in human cells.

This was followed by three years of academic research as a Research Associate where I worked on multiple collaborative research projects with colleagues from within the University and external industrial partners.

In 2017, I accepted a Teaching Technician position to deliver teaching and laboratory support to the 'Human and Molecular Genetics' and 'Molecular Biology and Biotechnology' MSc courses coordinated by Dr Adam Hodgson and Dr Qaiser Sheikh in the department of Molecular Biology and Biotechnology.

In 2019, I progressed to my current role as University Teaching Associate where I use the experience gained during my research career to train the next generation of young scientists in the necessary laboratory and research skills required for careers in the clinical, research and commercial sectors.
Teaching activities

Programme Director for the Human and Molecular Genetics MSc since 2021
Director of PGT Recruitment for the School of Biosciences since 2021
Teach on the MBB401 UG module.

MSc modules

MBB6011 Laboratory Techniques in Molecular Biosciences, coordinator
MBB6403 Research Project, laboratory supervisor
MBB6402 Literature Review