Professor Lorraine Maltby
OBE
Department of Animal and Plant Sciences
Professor of Environmental Biology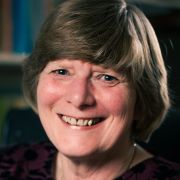 l.maltby@sheffield.ac.uk
+44 114 222 4827
E206, Alfred Denny Building
Full contact details
Professor Lorraine Maltby
Department of Animal and Plant Sciences
E206
Alfred Denny Building
Western Bank
Sheffield
S10 2TN

Profile

Career

Deputy Vice-President Research, University of Sheffield (2017 – present)
Professor of Environmental Biology, Animal and Plant Sciences, University of Sheffield (2004-present)
NERC/Scottish Government High Level Policy Placement Fellow (2015-2017)
NERC/Defra High Level Policy Placement Fellow (2013-2014)
High-End Expert, Chinese Academy of Sciences (2012-2013)
Head of Department of Animal and Plant Sciences, University of Sheffield (2008-2012)
Lecturer, Senior Lecturer and Reader in Zoology, University of Sheffield (1988-2004)
NERC Postdoctoral Research Fellow and Research Associate, University of Sheffield (1984-1988)
PhD (1984) University of Glasgow
BSc (1981) University of Newcastle

Awards

Officer of the Most Excellent Order of the British Empire (OBE) for services to Environmental Biology and Animal and Plant Sciences (2020).
Elected Fellow of the Freshwater Biological Association (2019)
Elected Fellow of the Society of Environmental Toxicology and Chemistry (2016)
Research interests

The human global population is predicted to reach 9.7 billion by 2050 and managing landscapes to provide the food, water, fuel, housing and other resources required by this growing population, whilst protecting the ecosystems that provide them, is a major challenge. My research addresses this challenge and is concerned with understanding the impact of anthropogenic activities on freshwater ecosystems and their catchments. A major research aim is to gain a mechanistic understanding of key ecosystem services and the ecological processes that underpin them, and to investigate how they are affected by anthropogenic inputs and activities. The output from this research is used to inform environmental decision making and to influence policy development and implementation. Current research topics include:

Ecological risk assessment
Ecosystem services and environmental stressors
Landscape Ecology and environmental change
Agro-ecosystems
Aquatic-riparian interactions
Publications

Show: Featured publications All publications

Featured publications

Journal articles

Conference proceedings papers

All publications

Books

Journal articles

Chapters

Conference proceedings papers
Research group

Postdoctoral researchers

Rukayya Ibrahim Muaza: Plastic: Redefining single-use. Funding: EPSRC

PhD students

Ruoyu Liang: Spatially defined ecological vulnerability of freshwater ecosystems to chemicals: implications for ecological risk assessment.  Funding: University of Sheffield Prize Scholarship
Tom Sinclair: Ecological impacts of chemicals in a changing world (jointly supervised with Prof Alistair Boxall (York) and Dr Richard Williams (CEH)). Funding: NERC ACCE DTP
Katie Pearson: New ecosystem-based approaches to understand the risks to aquatic biodiversity from human activities (jointly supervised with Prof Piran White (York) and Dr Claudia Rivetti (Unilever)). Funding: NERC ACCE DTP and Unilever
Niamh O'Connor: Linking individual and community level effects (jointly supervised with Prof Philip Warren). Funding: EU PRORISK
Susanna Mölkänen: Ecosystem services and risk assessment (jointly supervised with Prof Philip Warren). Funding: EU PRORISK

Research opportunities

I welcome applications from international students or self-funded home/EU with interests in pollution biology, ecotoxicology, ecological risk assessment, freshwater ecology, ecosystem services.
Teaching activities

I teach applied ecology, in particular freshwater ecology and ecotoxicology. My teaching is informed by my own research and my passion for understanding how ecosystems function and how we can best manage them to balance environmental protection with our use of ecosystems and the services they provide.

Prior to taking over as Head of Department, I was Director of Teaching for Animal and Plant Sciences and previously held the positions of Level 4 and Level 3 Year Tutors. I have served on the University's Learning and Teaching Committee and have been External Examiner for biology and environmental science programmes at universities in the UK and overseas. In 2009 I was awarded the Environmental Education Award by the Society of Environmental Toxicology and Chemistry.
Professional activities

Member of:

UNEP Scientific Expert Group on Chemicals and the Environment (2012-)
European Centre for Ecotoxicology and Toxicology of Chemicals Scientific Committee (2010-)
Freshwater Habitats Trust (formally Pond Conservation) Board of Trustees (2010-)
NERC Peer Review College, core panel member (2010-)
Canadian Research Chairs Programme College of Reviews (2005-)
Awards

Elected Fellow of the Freshwater Biological Association (2019)
Portrait of a Woman Exhibition (2017)
Elected Fellow of the Society of Environmental Toxicology and Chemistry (2016)
Society of Environmental Toxicology and Chemistry Environmental Education Award (2009)
Society of Environmental Toxicology and Chemistry Exceptional Service Award (2005)