Accelerating my career with the Future Leader's Graduate Programme at Pfizer

Krizand Christine Vaz
Now: Future Leaders Graduate Programme at Pfizer
BSc Genetics and Microbiology with Employment Experience
Whilst at Sheffield, Krizand spent a year completing a paid work placement at pharmaceutical giant, Pfizer as part of her degree. This experience helped Krizand to secure a place on Pfizer's Future Leader's Graduate Programme working in the organisation's commercial business in marketing and sales.
After my third year, I undertook a placement year at Pfizer UK as an 'Oncology Marketing Undergraduate' working with the renal portfolio from September 2018. I then had the opportunity to apply for Pfizer's 'Future Leadership Graduate Programme' starting September 2020 and successfully passed the interview and assessment centre.
This scheme gives graduates the opportunity to experience working in Pfizer's commercial business, in marketing and sales, over a two-year rotation programme. During the two years, graduates get involved in important departmental activities and projects, and are given a high-level of responsibility and the opportunity to really contribute to the success of the team. In addition, a member of the senior leadership team is allocated as a mentor to ensure there is a real focus on development and learning and to maximise the opportunity provided by this role, so we are well placed to progress in our careers.
How did the University of Sheffield help to get me to this point?
When searching for my placement, I found the careers support services to be extremely useful and supportive. I would highly recommend this service to other students who are looking for placements or your first job. The most valuable aspects of the service for me were the individual advice sessions with an experienced career consultant. This was beneficial for providing advice about assessment centres and reviewing specific application responses prior to submission. The careers advisors supported me during my preparation for the Future Leadership Graduate Programme assessment centre as well.
My top tip for making the most of this service is to go into each advice session with well-prepared or near final answers to potential questions to any upcoming interviews, assessment centres or even interview screening questions.
How did my course help with my application?
The course at the University of Sheffield was very flexible, which allowed me to tailor my learning to the subjects I enjoyed the most and those that would be most useful for my future – genetics, microbiology and commercial science. In this way, I had gained a unique set of skills and knowledge, which I was able to leverage for my career applications and interviews.  
What am I currently doing in the graduate programme?
Typical roles for a graduate during the first marketing year, includes working within a marketing team leading key strategic initiative, whilst applying marketing and analytical skills to build business recommendations. Graduates are also accountable for supporting brand related marketing activities and growth opportunities for assigned products in the UK.
In the second, healthcare sales year, typical roles include being a Network Sales Specialist within primary sales, who will have responsibilities within a specified region and territory conducted according to relevant code of conduct within the industry. The role will require graduates to develop brand and disease area knowledge, develop and demonstrate outstanding selling skills, develop and build external relationships with healthcare professionals, and deliver exceptional local business account plans.
What's next after the graduate programme?
Pfizer's Graduate Future Leadership Programme is aimed at those who aspire to be future pharmaceutical industry leaders. During the programme, I am hoping to gain a unique set of skills, experiences and build a wide network within the company. By the end of the programme I am interested in beginning my career within the commercial strategy business at the company and in the future, I'm looking forward to being an industry leader.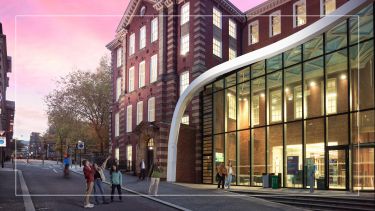 Visit us
Discover what sets Sheffield apart at our undergraduate open days on the Saturday 21 October or Saturday 18 November.