Ecology and Conservation Biology
Ecology and Conservation Biology is about exploring the species, habitats and ecosystems across the planet. You'll learn about biodiversity, species interactions and sustainability.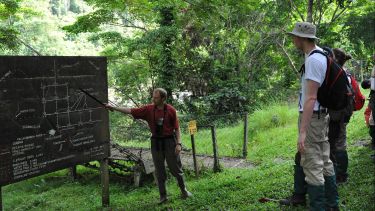 About Ecology and Conservation Biology at Sheffield
Our Ecology and Conservation Biology courses explore the interactions between humans, animals, plants and the Earth's atmosphere that determine their abundance, distribution and activities. You'll learn about human impact on ecological interactions, climate change, biodiversity and sustainability, as well as what we can do to manage natural resources in the face of changing environments.
Top 10 in the UK for Biological Sciences
The Times and Sunday Times Good University Guide 2020
All of our courses start with an essential set of core modules designed to give you specialist knowledge of ecology and conservation biology and the skills that every professional biologist needs. Alongside these you'll have the opportunity to study optional modules that span zoology and plant sciences. You can mix and match these modules so you specialise as much or as little as you like, covering genetics for conservation, animal behaviour and physiology, ecotoxicology, food-web network ecology and the microbial diversity of soils, underpinned by the latest research discoveries from our experts.
Our courses are designed for students who have a passion for ecology, biodiversity and conservation, who also want the opportunity to study topics across the full breadth of biology. You might even choose to add an extra year of research experience as part of your studies with our integrated masters programme, or gain valuable work experience with a placement year. 
Teaching
As an ecology and conservation biology student you'll learn in lots of different ways, from lectures and small group tutorials where our world-leading academics will share their latest research findings with you, to learning by doing during practical lab sessions, field trips and research projects.
Explore the course structure and content
Our staff are committed to great teaching and you'll have lots of opportunities throughout your degree to be creative, think independently, and express your ideas. You'll be building your knowledge and capacity to do science during research projects, exploring local green spaces applying your new skills, embarking on once-in-a-lifetime field courses, and getting the opportunity to share your knowledge with the general public through modules in science communication. All giving you plenty of chances to gain new skills and experience to put on your CV.
Find out more about our teaching
---
Field courses
All of our ecology and conservation biology students get to go on an optional two-week long field course between second and third year in order to cement what you've learnt during lab practicals and field trips. We give you a choice of fascinating habitats to explore, from dramatic landscapes in remote corners of the globe, to complex ecosystems operating right under our noses where you'll design and conduct your own research linked to evolution, behaviour, conservation and ecosystems. We also offer field courses in the lab if you're interested in exploring cells, genetics, physiology or other topics tied to laboratory research.
You won't have to wait until third year then to get out in the field though - there's also lots of field work built into the rest of your degree. All of our students spend the first week of first year on a field trip exploring Sheffield's green spaces, learning observation and research skills. There are regular visits to zoos, aquariums and nature reserves too.
---
Research projects
Project work is built into our degrees from the beginning, from field courses, to research projects based around first and second year modules on genetics, computer modelling, behaviour, species interactions, conservation and climate change.
In your third year, you'll get the opportunity to complete a major research project and dissertation in an area of ecology and conservation biology that interests you. Conducted under the supervision of one of our world experts, you'll work in a small group to define questions, develop experimental protocols, conduct the research, analyse the data and ultimately produce a written report in the form of a scientific publication. Example research projects include:
The effectiveness of measuring senescence using visual observations and RGB cameras;
How do Cetacean body sizes relate to the environment: a study in odontocetes and killer whales (Orcinus orca);
Is mowing frequency or surrounding habitat of urban road grass verges more influential on biodiversity value?
Our integrated masters course allows you to complete a further in-depth research project whilst embedded in one of our specialist research groups.
---
Talking the Talk: Getting Science on Film
Many of our students are inspired to study biology by seeing the natural world captured on screen. Our Talking the Talk: Getting Science on Film module gives ecology and conservation biology students the chance to make your own factual science documentaries, with support and advice from professional filmmakers.
Science communication is a popular career route for many of our graduates and this is just one way that you'll be able to gain experience in this area.
---
Our BSc and MBiolSci Ecology and Conservation Biology with Placement Year degrees allow you to do a year-long, paid work placement between your second and third year, applying your scientific knowledge and transferrable skills in a workplace environment. You'll pay reduced fees for the year you're on placement and you'll still have access to your tutor and the support you need from the university. Most students earn salaries during their placements too.
Our students have done their placements at organisations that include:
Atkins Environmental Consulting;
Newquay Zoo;
EMEC Ecology.
Placements aren't guaranteed – it's your responsibility to secure one but we'll do everything we can to help.
During my year I gained invaluable experience not only in surveying for protected species such as bats, great crested newts, badgers and many others, but also transferable business skills such as compiling quotes, dealing with clients, and learning the regulations and laws with regards to UK protected species.

Anna Williams

BSc Ecology and Conservation Biology with Placement Year at EMEC Ecology
---
Our four-year integrated masters courses (MBiolSci) are designed for students who want to pursue a career in industrial or academic research or where understanding the process of research is vital to success. The first three years of your course will have the same structure as the BSc, with the fourth year devoted to a major research project designed to equip you with the advanced laboratory skills you'll need for a successful and rewarding career in science. You'll be embedded within one of our specialist research groups, conducting your own independent research and interacting with academics and lab staff as a professional scientist. All of our courses are available as a three-year BSc degree, or a four-year MBiolSci degree.
Example research projects include:
The impacts of selective logging on Bornean birds;
Preservation of agricultural peatlands using water table management under ambient and elevated levels of CO2;
The long-term effects of grazing on oak- birch woodland biodiversity and invasion in the Peak District National Park.
I thoroughly enjoyed the 4th year part of the course which allowed me to gain vital experience of running a live applied research project which led to the study being published at a later date. 

Dr Tom Young

MBiolSci Ecology
---
Your career
The demand for skilled ecologists has expanded in recent years within industry, research, education and beyond. Our graduates go into careers across conservation, research, marketing, human resources, science communication and teaching, using their sought after transferrable skills in data analysis, project management and teamwork to thrive in a range of organisations. Each year our graduates join conservation and environmental consultancies, wildlife trusts, museums, hospitals, pharmaceutical companies, and local, national and international government. Many also go on to do PhDs. 
You'll get lots of support to help you work out what you want to do after graduation, and the steps you need to take to get there. Your personal tutor will be on hand to provide careers advice throughout your course, and with training and events, from our annual employability day tailored to specific biology degree pathways, to mock assessment centres and portfolio building workshops, you'll be well equipped to plan your career and find a great job after you've finished your degree.
---
Our courses
The content of our courses is reviewed annually to make sure it is up-to-date and relevant. Individual modules are occasionally updated or withdrawn. This is in response to discoveries through our world-leading research, funding changes, professional accreditation requirements, student or employer feedback, outcomes of reviews, and variations in staff or student numbers. In the event of any change we'll consult and inform students in good time and take reasonable steps to minimise disruption. 
Clearing and Adjustment
We have places available on some courses for additional high achieving students through Clearing and Adjustment.