Ecology and Conservation Biology
Ecology and Conservation Biology is about exploring the species, habitats and ecosystems across the planet that are under threat. You'll learn about the climate crisis, biodiversity and sustainability before putting your skills and knowledge into practice in the lab and the field.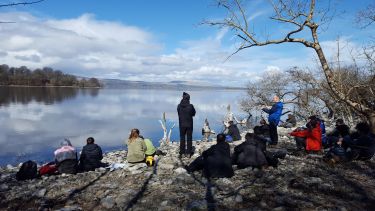 Our Ecology and Conservation Biology courses explore how humans, animals and plants interact with each other and their environment, and how this determines their abundance, distribution and the biodiversity we see on the planet. 
You'll learn about human impacts on ecological interactions, the climate crisis, biodiversity and sustainability, as well as what we can do to manage natural resources in the face of changing environments.
---
Our courses all come with options to gain additional experience beyond the three-year BSc. You can add an extra year of research experience with an integrated masters, or gain valuable work experience with a top employer as a recognised part of your degree by spending a year on a work placement. You can even apply to spend a year studying abroad in a fantastic location, after you've joined the university.
Courses with a placement year
 Courses with a foundation year
---
---
As an ecology and conservation biology student you'll learn in lots of different ways, from lectures and small group tutorials to learning by doing during field work, practical lab sessions and research projects.
Alongside your specialist ecology and conservation modules, from your first year you'll have the flexibility to study topics across the breadth of biology to complement your knowledge. Topics range from plant science, biotechnology and zoology, to neuroscience, genetics and physiology.
Our staff are committed to great teaching and you'll have lots of opportunities throughout your degree to be creative, think independently, and express your ideas. You'll be in the lab completing in-depth practicals, out in the Peak District conducting your own research projects, visiting zoos, aquariums and other scientific spots around the country and embarking on a once-in a lifetime field course in the UK or abroad. All giving you plenty of chances to gain new transferrable skills and experience to put on your CV.
Find out more about our teaching
---
Project work is built into our degrees from the beginning, from field courses, to research projects based around first and second year modules on genetics, computer modelling, behaviour, species interactions, conservation and climate change.
In your third year, you'll get the opportunity to complete a major research project and dissertation in an area of ecology and conservation biology that interests you. 
Conducted under the supervision of one of our world experts, you'll work in a small group to define questions, develop experimental protocols, conduct the research, analyse the data and ultimately produce a written report in the form of a scientific publication. Example research projects include:
Actively restoring environmental and economic resilience in logged tropical forests;
How do Cetacean body sizes relate to the environment: a study in odontocetes and killer whales (Orcinus orca);
Is mowing frequency or surrounding habitat of urban road grass verges more influential on biodiversity value?
Our integrated masters courses allow you to complete a further in-depth research project whilst embedded in one of our specialist research groups.
Explore the University
Discover why Sheffield is the right choice for you at one of our open days or events.