Ecology and Conservation Biology
Ecology and Conservation Biology is about exploring the species, habitats and ecosystems across the planet. You'll learn about biodiversity, species interactions and sustainability.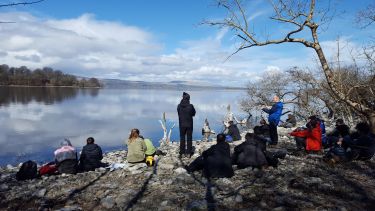 ---
Our Ecology and Conservation Biology courses explore the interactions between humans, animals, plants and the Earth's atmosphere that determine their abundance, distribution and activities. You'll learn about human impact on ecological interactions, climate change, biodiversity and sustainability, as well as what we can do to manage natural resources in the face of changing environments.
Top 10 in the UK for Biological Sciences
The Times and Sunday Times Good University Guide 2020
All of our courses start with an essential set of core modules designed to give you specialist knowledge of ecology and conservation biology and the skills that every professional biologist needs. Alongside these you'll have the opportunity to study optional modules that span zoology and plant sciences.
---
As an ecology and conservation biology student you'll learn in lots of different ways, from lectures and small group tutorials where our world-leading academics will share their latest research findings with you, to learning by doing during practical lab sessions, field trips and research projects.
Explore the course structure and content
Our staff are committed to great teaching and you'll have lots of opportunities throughout your degree to be creative, think independently, and express your ideas. 
You'll be building your knowledge and capacity to do science during research projects, exploring local green spaces applying your new skills, embarking on once-in-a-lifetime field courses, and getting the opportunity to share your knowledge with the general public through modules in science communication. All giving you plenty of chances to gain new skills and experience to put on your CV.
Find out more about our teaching
---
Project work is built into our degrees from the beginning, from field courses, to research projects based around first and second year modules on genetics, computer modelling, behaviour, species interactions, conservation and climate change.
In your third year, you'll get the opportunity to complete a major research project and dissertation in an area of ecology and conservation biology that interests you. 
Conducted under the supervision of one of our world experts, you'll work in a small group to define questions, develop experimental protocols, conduct the research, analyse the data and ultimately produce a written report in the form of a scientific publication. Example research projects include:
The effectiveness of measuring senescence using visual observations and RGB cameras;
How do Cetacean body sizes relate to the environment: a study in odontocetes and killer whales (Orcinus orca);
Is mowing frequency or surrounding habitat of urban road grass verges more influential on biodiversity value?
Our integrated masters course allows you to complete a further in-depth research project whilst embedded in one of our specialist research groups.