Chinese Day is Coming! 11/11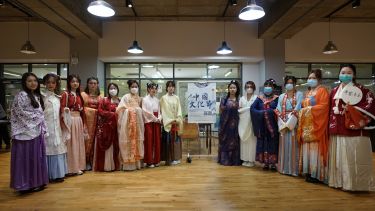 Chinese Day comes round again! 
This year's Chinese Day event will consist of a host of fun, stimulating and exciting activities, from calligraphy stalls to guzheng workshops and performances. There is no doubt that this event will bring the warmth of home to Chinese participants, but it will also promote traditional Chinese culture, and provide local friends with an excellent opportunity to experience it.
Tickets are required to participate in this event.
The price of the tickets is: £4/person.
 
Students who hold a CSSA membership card can get 20% discount (ie £3/person). 


Please buy your tickets at the venue on the day.  Cash only. 
Tickets will also be on sale at the Diamond library building (ground floor, next to the reception area) on November 9 and 10 from 12-4pm. Organisers will also be giving out leaflets about the event and will be available if you have any questions.
For any inquiries please contact: confucius@sheffield.ac.uk
---
Chinese Day – Areas and activities to explore
The following are areas within the event area which can be accessed in the space.
Chinese Grocery Store 
Chinese snacks and foods that will get your mouth watering – a nostalgia trip for Chinese and a fascinating new experience for non-Chinese!
Bank (Exchange Office)
You can exchange money for silver tickets that must be used at the event site. The tickets are valued at 50p and can be exchanged at the bank to buy souvenirs at stalls or food from the grocery store. In addition, after visiting the event area, you can also deposit the unused banknotes at the bank for a return of your cash and keep the tickets as a commemoration of the event.
Stamps for gifts exchange
On the back of everyone's purchased tickets is a collection of stamps. We have a total of 14 exciting activities in the game area and experience area. You can get a stamp for each activity you participate in; 11 stamps can be exchanged for special gifts! Gifts are limited, first come first served.
---
Immersive and fun activities
Guzheng playing
A guzheng teacher will immerse you in the rhythm of the guzheng and teach you how to play the guzheng. Here you can not only enjoy, but also play by yourself!
Calligraphy and painting
Calligraphy is a traditional art unique to Chinese characters, mainly based on writing Chinese characters with a brush. Chinese painting featured at the event will also be the traditional form of Chinese painting. We will provide brushes and rice paper.
Tea drinking
There are many people who love tea, but few people who understand tea. We've asked an expert young lady to teach us the tea art, you can also try the tea for yourselves!
Hanfu costume wearing
Those who are interested in Hanfu culture can come here to change into Hanfu clothes and time travel in a foreign country! We will also provide Polaroid photography services on-site, so you can go home with great photos.
Games to play
They'll be lots of games to play on the day, from Mahjong and Go to Dominoes and Chinese Chess
As you can see this day and event will be packed with activities. Don't miss out! Make your way to:

University of Sheffield's Student Union (Uni Central area),
Western Bank,
Sheffield,
S10 2TG.

November 11, 2022 – 1 – 5pm. See you there!
---
Thank you for reading!
Take a look at the links below to read more about the SCI's recent activities and events!
Events at the University
Browse upcoming public lectures, exhibitions, family events, concerts, shows and festivals across the University.