SCI Newsletter September, 2022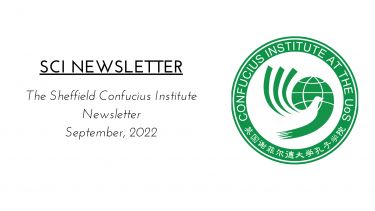 SCI Update
The Confucius Institute at the University of Sheffield has continued to hold language courses, activities, and cultural events during September 2022.
Read on for more details!
---
Mid-Autumn Festival Events 
To celebrate the important Mid-Autumn Festival in September, the SCI staged a two-event sequence, a calligraphy workshop and a special poetry and music collaboration between Chinese student poets and musicians with local, English language speaking poets. The result was a genuinely festive feeling in September with Chinese and locals celebrating the unique nature of the festival.
Calligraphy Workshop
On Monday, 5th September, we wanted to do something special to celebrate this year's Mid-Autumn Festival and our calligraphy class, delivered in a workroom at the University of Sheffield's Diamond building was a great way to do it. Our local teacher, Tao Ting, delivered the class to a bustling room of around 20 students, all of whom enjoyed a detailed presentation about the history of the art. This was followed by demonstrations of the various stages required when writing calligraphy, from brush stroke order to writing techniques. The session ended with the students delivering beautiful calligraphy with their very own brushes.
China - UK Poetry Dialogue
The moon shone high in the night sky as our English language poets and Chinese poets and musicians gathered together at the University Arms pub in Sheffield for this one-of-a-kind evening event. Delivered on the evening of the 9th of September, we tasked four Chinese poets and four English language poets to write in poetic dialogue with each other and the process went like this:
First, the Chinese poets wrote a poem inspired by the Mid-Autumn Festival.
 
Then CI Teacher Li Jia and CI staff, Olivia Hodson-Barnes and Matthew Byrne worked together, with the translations provided by the Chinese poets, to create English translations of the original Chinese poems.
 
Finally, the English language poets produced a poem response, inspired by the prompt of the translated Chinese poem.
These poet partnerships went along with Chinese music performances, delivered by Mingwei Guo (singing the famous song, 'Jiangnan') and Yingchen Guan and Lingxi Zang, who delivered beautiful guzheng performances. Event attendees also enjoyed a gift in the form of mooncakes, given by the CI staff, a warm reminder of home for the Chinese and a wonderful taste of Chinese culture for non-Chinese.  A big thank you to all our collaborating poets and speakers: Xiaozhi Yang, Michael Burton, Abigail Weathers, Jiongsheng Hu, Matthew Byrne, Wenjun Zhu, Karl Riordan, Qixuan Gao and Dr Dequan Miao, and to the CSSA (Chinese Students & Scholars Assocation) for helping to promote and organize the event!
---
Adult Courses September Semester Starts 
Our hardworking sponsored teachers have been busily preparing and delivering the new classes that began with the September semester at the end of last month. From Survival Chinese classes to our 12 Week Chinese for Everyone classes, ranging from Beginners to Upper Intermediate and HSK 1 - 5. We're very lucky to have such dedicated teachers and we can't wait to report back to you about their successes as the term continues! 
---
Star Mandarin School Starts 
With 33 teachers and close to 800 hundred students, the massive, complex but hugely rewarding undertaking of the Star Mandarin School started with the beginning of the September Semester late last month. Staged in the classrooms of the elegant Bartolomé House building on the University of Sheffield campus, the leader of the school, SCI's Coordinator, Dr Xinqun Hu, can be found with the school's teachers every weekend - guiding the students and helping to deliver excellent classes with subjects ranging from Maths to the Arts. 
For more information, please contact: Dr. Hu. Tel: 07593502130. Email: starschool@sheffield.ac.uk. 
---
Sino-English Club Starts 
Our sponsored teacher, Li Qian, has taken over the management of the SCI'S Sino-English Corner, in collaboration with the University of Sheffield's School of East Asian Studies. This club and activity are a great way to converse in Chinese and English with students and language learners across all levels. It's also a great way to make new friends! Li Qian has also thought of great ways and activities to get the conversation flowing, to make sure everyone has a great and rewarding experience. The Sino-English Corner takes place from 6pm - 8pm, every Tuesday on the third floor of the University of Sheffield Student Union. Just come into the communal area and you'll find us all chatting under the big Sheffield Confucius Institute banner. 
---
Astrea Academy - Global Confucius Day Learning Video Success 
On 28 September, the Sheffield Confucius Institute (SCI) at the University of Sheffield visited Byron Wood Academy, part of Astrea Academy Trust, to mark Confucius Day and give students an insight into China and Chinese culture. 
Pupils at Byron Wood Academy, along with approximately 4,500 pupils across the Trust's 18 primary schools, watched an interactive educational video project delivered by the SCI to celebrate this year's Confucius Day, celebrated round the world to honour the renowned scholar of Confucianism. 
Pupils in Years 2 and 4 engaged with teacher Li Qian's guidance to practice vocabulary such as ('love' -爱- Ài) – ('friend' 朋友 – Péngyǒu) and ('knowledge' - 知识 – Zhīshì) with the question-and-answer forms: (How are you? - 你好吗?- Nǐ hǎo ma?) and ('I'm fine thanks'- 我很好,谢谢 - Wǒ hěn hǎo, xièxiè).
"It was a pleasure to meet the staff and students at Byron Wood Academy. The children did a wonderful job practising the mandarin phrases with Li Qian and it was a lovely way to recognise Confucius Day.

Li Xiao

Interim Director, Confucius Institute at the University of Sheffield
Our community is incredibly diverse, and so the children are used to hearing different languages all the time. This visit gave them all the opportunity to learn together, and it was great to see them all appreciating another culture that the majority had not been exposed to before. It was also nice to see our Chinese children excited to have that recognition.

Richard Surridge

Assistant Principal at Byron Wood Academy, part of Astrea Academy Trust
---
Manchester CI Visit - 'Commissioning Creative Projects'
The SCI's Interim Director, Professor Xiao and Marketing Officer, Matthew Byrne had the pleasure of being hosted by the welcoming team of the Manchester Confucius Institute for their 'Commissioning Creative Projects' event, staged on September 29, 2022. Workshops were held for the both the directors and leaders of CIs across the UK and also the marketing staff of UK CIs. A range of topics were discussed, from how best to work with local communities and leaders to how best to market and promote CI work with the best benefit of local communities in mind.
---
Thank you for reading!
Take a look at the links below to read more about the SCI's recent activities and events!
A global reputation
Sheffield is a research university with a global reputation for excellence. We're a member of the Russell Group: one of the 24 leading UK universities for research and teaching.