Mid-Autumn Events: Calligraphy Class Success!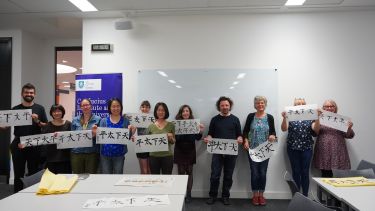 On Monday, 5th September, we wanted to do something special to celebrate this year's Mid-Autumn Festival and our calligraphy class, delivered in a workroom at the University of Sheffield's Diamond building was a great way to do it. Our local teacher, Tao Ting, delivered the class to a bustling room of around 20 students, all of whom enjoyed a detailed presentation about the history of the art. This was followed by demonstrations of the various stages required when writing calligraphy, from brush stroke order to writing techniques. The session ended with the students delivering beautiful calligraphy with their very own brushes.
Students were taught about some of the various radicals that make up Chinese characters, and how they've evolved over time as literal drawings of aspects of real life into the stylized characters that they've turned into today. These unique clues about the characters provide fascinating clues about their etymology, ensuring that students weren't just practicing their writing, but really getting into the history and development of the craft as well. 
Students first practiced the unique strokes to make a phrase in Chinese, practicing first on newspaper laid on their tabletops and then on yellow practice paper, and then finally on the luscious white parchment paper that gives the base to that genuine beauty and haunting effect that Chinese calligraphy is so famous for.
We're delighted about how rewarding and successful our calligraphy class was - we're excited to stage more events in the future to really start to build a community around this wonderful art form. Please sign up for our newsletter for more news and updates about future events! 
SIGN UP FOR FUTURE NEWSLETTERS DELIVERED TO YOUR EMAIL:
https://tinyurl.com/scinewssubs
---
Thank you for reading!
Take a look at the links below to read more about the SCI's recent activities and events!
Events at the University
Browse upcoming public lectures, exhibitions, family events, concerts, shows and festivals across the University.