SCI Newsletter - July, 2022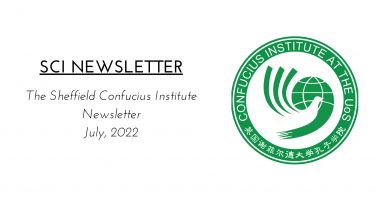 SCI Update
The Confucius Institute at the University of Sheffield has continued to hold language courses, activities and cultural events during July, 2022.
Read on for more details!
Birkdale School China Day
Adult Learning Summer School
SCI Away Day Event 
Liverpool Confucius Institute Visits Sheffield!
Mandarin Summer School for Children 
Goodbye Zhipeng!
SIGN UP FOR FUTURE NEWSLETTERS DELIVERED TO YOUR EMAIL:
https://tinyurl.com/scinewssubs
---
Birkdale School China Day
The SCI was proud to help facilitate the entire day of Thursday, July 7th as part of our China Day initiative at the prestigious Birkdale School in Sheffield. Children from Year 7 at the school (ages 11-12) were treated to the entire selection of our China Day activities; everything from Chinese character writing to unique sessions about Chinese mythology and culture, arts and crafts activities and Chinese dance practice and performances. The children even enjoyed a delicious Chinese meal during the event which the teachers also loved too - (the teachers from Birkdale school even joined in the activities with the kids!) Our China Day event bundle is a wonderful way to encourage students to interact positively with Chinese culture in a myriad of ways. It's a total pleasure for the SCI to help provide such a pleasant experience of Chinese culture to this next generation of students. If you or someone you know would like to find out more about our China Day activities, please don't hesitate to email us at confucius@sheffield.ac.uk to find out more! 
---
Adult Learning Summer School
From July 4th to July 29th, SCI's Adult Summer School took place, with classes given by our experienced sponsored teachers, Qian Li and Yanan Liang. Taking advantage of technology and an increased aptitude for online teaching, honed during the Covid pandemic, our teachers delivered dynamic and fruitful online Chinese language classes for students across the UK. Each class benefited enormously from the experience, determination, patience and skill of our highly qualified Chinese language teachers. The classes delivered throughout the period dealt with a variety of learners and all students came through with greatly enhanced ability and high spirits! Thanks to our dedicated teachers, Yanan Liang and Qian Li. 
I wanted to inform you that this group of Chinese lessons has been amazing.

Vincent Wood

Adult Summer School student
I really enjoyed the  summer school teaching. Everyone was very friendly and the learning atmosphere was very relaxed and enjoyable.

Yanan Liang

Adult Summer School teacher
The students worked really hard as complete beginners. Some of them say they will continue in September, which makes me very happy!

Qian Li

Adult Summer School teacher
---
SCI Away Day Event 
The SCI was very pleased with our recent 'Away Day' event on Monday, 25th July, which sought to unite the team together through a series of team building activities. The SCI staff and team were honoured to welcome the Head of Department, Dr. Malcolm Butler, Vice-President and Director of Global Engagement who joined the day's activities. The team engaged in a SWOT (Strengths, Weaknesses, Opportunities, Threats) analysis of the SCI and its situation, as well as games and activities such as Chinese pass-the-parcel, truth or lie hotseat and a video compilation of the SCI's recent successes. The team also enjoyed inspiring speeches delivered by the SCI's Interim Director, Professor Xiao and Dr. Butler. This mix of activities really helped to create a fun but important and compelling atmosphere, as not only did team members engage in activities to unite the team, but they also directly engaged with some of the exciting and challenging questions that the Sheffield Confucius Institute faces as it continues its work to positively impact the local community and promote the positive aspects of Chinese culture in the UK.
---
Liverpool Confucius Institute Visits Sheffield!
The SCI was delighted to welcome representatives from the Liverpool Confucius Institute to Sheffield on Tuesday, 26th of July. The Liverpool Institute was keen to speak to our team to find out more about our marketing activities, teaching projects, and our learning platforms and activities. Both CI teams enjoyed in-depth discussion about the daily running of the CI, featured projects (both recurring and unique) and the methods used to organise, scale and manage them. We ended the day by visiting our Mandarin Summer School for Children, taking place at the University of Sheffield's Bartolome House building - viewing some of the exciting classes there, ranging from STEM and arts and crafts to Chinese cultural dance class. All in all, it was a wonderful exchange of ideas and knowledge, and the SCI team has been invited by the Liverpool Confucius Institute to visit the city of Liverpool in turn. We can't wait to report back to you about how that goes!  
---
Mandarin Summer School for Children 
This year's Mandarin Summer School for Children was a total success! Staged in the beautiful Bartolome House building in the University of Sheffield campus, four classrooms and one large assembly area were swallowed up by delighted kids and inspiring teachers for four days of learning fun. From STEM classes to Fun Maths and Language and Literature activities, the kids were learning and having fun from 9am all the way to 5pm each day. At the end of the four days, parents were invited to watch a special performance and presentation given by their children of all the great things that they learned over the course of the school - from reciting science facts and showing scientific models they had built to Chinese poetry and dance which they had memorised and which they either sang or recited. Great job to all our teachers, students and parents for creating such an exciting and engaging atmosphere! Here's to our Star Mandarin September semester start and a continuation of the fun learning journey! Look out for a more detailed article about our Summer School later this week - If you're interested in finding out more about our Star Mandarin September semester, please don't hesitate to send us an email at confucius@sheffield.ac.uk.
---
Goodbye Zhipeng!
It's with heavy hearts that the SCI bids farewell to its excellent sponsored teacher, Zhipeng Duan. After four excellent years teaching at the Sheffield Confucius Institute, he's leaving the UK to return back to China. Zhipeng's teaching has been a model of dedication, innovation and skill and he will be greatly missed by staff and students alike. A great teacher is a generous teacher, is a teacher willing to go the extra mile to foster their students into improvement with admirable understanding. Zhipeng personified this spirit and more - goodbye from the SCI and from Sheffield Zhipeng! You'll be greatly missed!
---
Thank you for reading!
Take a look at the links below to read more about the SCI's recent activities and events!
A world top-100 university
We're a world top-100 university renowned for the excellence, impact and distinctiveness of our research-led learning and teaching.