Chinese Lunar New Year 2023 Gala - Sheffield City Hall - 24/01/23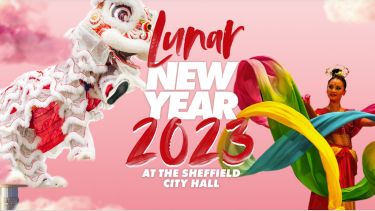 The Year of the Rabbit is coming…
The Year of the Rabbit is the next Chinese Lunar Year on 22nd January 2023 and the traits of the rabbit are popularity, compassion, and sincereness. There's no better trait to represent our unified spirit in the coming year and we can't wait to share this with the wider Sheffield community! 
Join us on 24th January 2023 for an evening of amazing musicians, acrobats, artists and performers along with fascinating workshops and a host of other cultural activities.
As one of the largest multi-cultural events in Sheffield, this event has always been strongly supported by the city, Sheffield council, the Chinese Embassy and the Chinese Consulate. Every year the gala is attended by senior representatives from across the region, the Chinese Embassy and Consulate who give speeches. This year we are extremely proud to be working with Sheffield Children's Hospital as our nominated charity - meaning your donations will help change lives.
Sounds interesting? This is just a glimpse of what's in store, stay tuned for more updates about our performers, activities and workshops.
---
Pre-Show - Ballroom, Sheffield City Hall, 5pm - 6:30pm (FREE) 
Music and Performances
The Ballroom Stage will be filled with wonderful musical acts and performances, both solo and with ensemble. Performances will be inspired entirely by classical and modern Chinese music and dance - from piano performances to orchestral and traditional dance performances. The perfect setting for guests as they enjoy all the stalls and activities on offer.
Confucius Institute Chinese Cultural Workshops and Exhibitions 
The Sheffield Confucius Institute will deliver a range of engaging activities exploring Chinese culture through games, arts and activities. Exhibitions will feature the winning entries for our China - UK: Perspectives 2022 photo competition and our Year of the Rabbit themed School Arts Competition. Want to try your hand at calligraphy or Chinese painting? Our teachers, volunteers and representatives will all be on hand to show you the ropes.
Evening Show - Irwin Mitchell Oval Hall, Sheffield City Hall, 7pm - 9pm (Paid with concessions)
The performances that have graced the main stage in the Oval Hall have wowed the audiences and the city for many years - and this year will certainly not disappoint. The magic of the acts will be beaten only by their variety as this year's performances bring 2023 in with a bang. Musical performances will include traditional instruments like the pipa and feature compositions by renowned classical Chinese musicians and singers. Chinese dance routines will be performed by the Wanlin Dance Outfit, there will be traditional sword dancing and the event headliners, the Lion Dancers, will put on a stunning acrobatic display not to be missed. 
Now that we've given you a taste, stay tuned for more features on our performers. . For more information and to book your tickets visit : www.sheffieldchinesenewyear.com or scan the QR code. 
---
Visit: https://www.ticketsource.co.uk/lunar-new-year-2023 to buy your tickets now!
Date: 24 January 2022
Time: 5pm - 6:30pm (Ballroom) - 7pm - 9pm (Oval
Location: Sheffield City Hall, Barkers Pool,, Sheffield, S1 2AJ
Contact: confucius@sheffield.ac.uk 
---
Thank you for reading!
Take a look at the links below to read more about the SCI's recent activities and events!
Events at the University
Browse upcoming public lectures, exhibitions, family events, concerts, shows and festivals across the University.