Chinese Lunar New Year 2023 - Oval Main Stage *LINE UP* - 24/01/23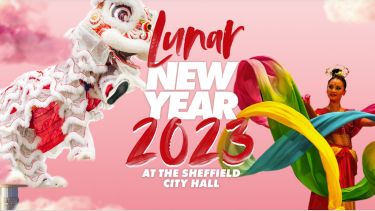 Evening Show - Irwin Mitchell Oval Hall, Sheffield City Hall, 7pm - 9pm (Paid with concessions)
Read on to find out more about the highlights and for details on how to get your tickets before they run out! 
HEADLINERS: Lion Dancers - 'Acrobatic Lion Dance on Pillars'
This is the headlining act of the night and must not be missed! Come and play your part in Sheffield history by being the first to see it. The Lion Dance is a traditional staple of Chinese culture that has been enjoyed for centuries across the world.  This performance will be entirely unique in Sheffield, because the Lion Dancers will be performing jaw-dropping feats of acrobatic skill on special stilts towering from the stage! It will seem like the lions, operated by skilled acrobats, are jumping onto the stage into the enthralled audience - all to the theme of thundering Chinese traditional music. 
Wan Lin Dance Academy Performances - 'Only this Green'; 'The Quiet, Peaceful Melody'
The Wanlin Academy will be performing dance choreography in two acts: 'Only this Green' - an act inspired by Wang Ximeng, a talented painter in the Northern Song Dynasty - and 'The Quiet, Peaceful Melody', a dance which shows the beauty and grace of Tang Dynasty (618-907) maidens. Founded in 2012 and renowned for their beautiful costumes and choreography, the Wanlin Academy dancers will be gracing Sheffield this Chinese New Year for the annual gala with a spectacular traditional dance performance. The Academy runs courses in Sheffield, teaching the graceful art of Chinese classical and folk dance, and offers lessons at all levels for adults and children, as well as providing workshops and stage performances upon request. 
Zeng Si - Song performances - ' Think Of Me', Phantom of the Opera Excerpt; 'Beautiful China', 'Unforgettable Tonight'. 
Si Zeng will be singing a range of songs through the event, invoking the drama of Phantom of the Opera and the subtle beauty of Chinese pop and traditional songs. Si Zeng was a singer in the Suzhou Dance Theatre and a member of the Musician Association of Xiamen, she graduated from University of Xiangnan with two master degrees in Music and Performance from the University of Kingston and Goldsmiths College in London.
Chen Yining - Pipa Dance - "Rebounding Pipa"
Chen Yining's performance is based on the image of the 'Playing Pipa Behind Back', discovered in Cave 112 of the Mogao Caves in China, and is inspired by ancient forms of music and dance in the context of the modern day. 
Zhang Pengli & Wang Ruoyu - Italian Bel Canto: "Time to Say Goodbye"
Accomplished operatic singers, Zhang Pengli and Wang Ruoyu will sing "Time to Say Goodbye (Con te partiro)" , composed by Francesco Sartori with lyrics by Lucio Quarantotto. This composition was originally sung solo by Andrea Bocelli at a concert in Sanremo, Italy in 1995, and was included on his Bocelli album in the same year.
Zhang Pengli
Zhang Pengli is studying vocal music performance at the University of Sheffield, under the tutelage of Professor Carol Smith. He is a graduate from the Zhejiang Conservatory of Music, and has performed in a number of esteemed productions throughout his careers, including the opera 'The Magic Flute' as Monostatos in 2021 and the opera 'Bat' as Blind in 2022.
Wang Ruoyu
Wang Ruoyu is a graduate from the Zhejiang Conservatory of Music. She has won numerous awards at home and abroad. In 2022, she will participate in the concert of the Academy of Opera, playing the role of Adina in the duet "You Want the Breeze to Answer Questions" and the role of the heroine Sepina in "The Maid Butler".
Chen Yining - Sword Dance: "'Ling Feng, Swordswoman of Yue"
Chen Yining is an award winning sword dancer  who will amaze the audience with 'Ling Feng, Swordswoman of Yue'.Her work uses the image of the 'Yue Nui', a female swordsman from the Spring and Autumn period, to express her spiritual state of 'unity of nature and man' as she lives in the mountains and studies swords,  martial arts and dances.  
In 2018, Chen Yining was invited by the world-renowned music artist Tan Dun to perform a solo dance in his composition 'Buddha Passion', which toured the world. In 2019, she played the leading role in the documentary: The Great Poet Du Fu, jointly recorded by the BBC UK and CCTV China. In August 2022 her performance piece 'Crying of Four Seasons' was performed at the Edinburgh Festival. 
Yantong Chen - Piano Solo, Concert Allegro: "Red Lilies Crimson and Bright "
Yantong Chen is one of our postgraduate students at the University of Sheffield, majoring in piano performance. He has won many prizes, such as first prize in the Changjiang Cup and second prize in the Liszt Piano Competition. Yantong Chen graduated from Wuhan Conservatory of Music with a bachelor's degree.
Zi'an Wang and Xizong Chen - Piano Viola Ensemble: "The Fishing Boat Sings" 
This enigmatic pair of musicians have fought against all odds to become accomplished with bright futures! They have been collaborating for a while and their performances always leave the audience amazed. 
Zi'an Wang 
Zi'an was born in Guangzhou in 1999 and his premature birth caused him to lose his sight. He started learning piano at the age of four. He took up the challenge of viola at the age of 12. In 2018, he was accepted in the Royal Birmingham Conservatoire in the UK and was the first visually impaired student in China to study abroad for his undergraduate degree in music. In 2022, he completed his undergraduate studies.. He was also accepted by the Royal Northern College of Music to study for a master's Degree. 
Xizong Chen 
Xizong Chen was born in Maoming in 1998. He showed a keen interest in music from a very early age but did not begin his formal training until he was eleven years of age. Xizong has suffered from visual impairment since his childhood. Xizong studied with Professor Songwen Li. Head of Keyboard Studies at Xinghai Music Conservatory, for four years before commencing his studies at Changchun University. He was awarded a scholarship for four consecutive years. He also performed with the Changchun Philharmonic Orchestra and has taken part and won prizes in many prestigious competitions. Xizong is currently a second-year post graduate student studying at the Royal Northern College of Music under the tutelage of international pianist and teacher Professor Frank Wibaut. 
We can't wait to showcase these amazing performers on 24 January. Stay tuned for more upcoming features about the event! For more information and to book your tickets visit : www.sheffieldchinesenewyear.com or scan the QR code
---
Visit: https://www.ticketsource.co.uk/lunar-new-year-2023 to buy your tickets now!
Date: 24 January 2022
Time: 5pm - 6:30pm (Ballroom) - 7pm - 9pm (Oval
Location: Sheffield City Hall, Barkers Pool,, Sheffield, S1 2AJ
Contact: confucius@sheffield.ac.uk 
---
Thank you for reading!
Take a look at the links below to read more about the SCI's recent activities and events!
Events at the University
Browse upcoming public lectures, exhibitions, family events, concerts, shows and festivals across the University.