Conservation of Minority Culture in Guizhou Province - A Soundscape Perspective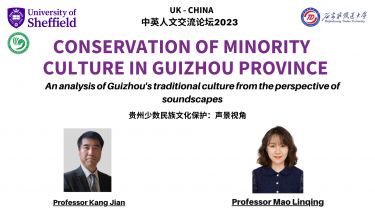 About the UK - China Seminar Series
The Confucius Institute regularly invites academics and experts worldwide to give talks at the China Seminars Series about the latest research in language studies, language teaching, international relationships and economics, and other topics.
The China Seminar Series is an annual project organised by the SCI designed to host a number of talks across the year by renowned academic and professors from around the UK and China.
The seminars cover a variety of topics, including Chinese language education, cross-cultural communication, Chinese philosophy, Chinese history and Chinese agriculture among others. In order to promote cross-cultural dialogue between our British and Chinese colleagues, the UK-China Seminar Series was created.
---
Conservation of Minority Culture in Guizhou Province - A Soundscape Perspective
Joint Presentation by Professor Kang Jian and Professor Mao Liqang
Guizhou is a province with one of the largest number of ethnic minorities in China. The soundscapes of Guizhou undertake and explore social and cultural functions such as the recording of historical culture and the distinguishing of ethnic groups. This talk will analyse Guizhou's traditional culture from the perspective of soundscapes (the everyday sounds of the region and culture), laying a theoretical foundation for the inheritance and dissemination of ethnic cultural heritage. This joint presentation is based on collaborative work of the two speakers.
For this fascinating discussion, we will be joined by Professor Kangjian from University College London (UCL) and Professor Mao Linqing from Shijiazhuang Tiedao University. 
Professor Kang Jian
Jian Kang, formerly professor at Sheffield School of Architecture, is now Professor of Acoustics and Soundscape at the Bartlett Faculty of Built Environment, University College London (UCL). He is a Fellow of the Royal Academy of Engineering.
Professor Mao Linqing
Mao Linqing is the Deputy Dean, Associate Professor, PhD Supervisor, at the School of Architecture & Art, Shijiazhuang Tiedao University, and Deputy Director of Hebei Research Center for Sustainable Development of Human Settlements.
When: May 5, 2023 - 9:00AM (BST)
---
SCAN QR TO JOIN ZOOM MEETING (NO NEED TO BOOK)
Join Zoom Meeting https://zoom.us/j/96315241423?pwd=NGZYZ2JUYXVZQk1SaGZ0NUpLdkJxQT09 
Meeting ID: 963 1524 1423
Passcode: 605839         
---
Thank you for reading!
Take a look at the links below to read more about the SCI's recent activities and events!
Events at the University
Browse upcoming public lectures, exhibitions, family events, concerts, shows and festivals across the University.