Farewell Event for Dr Lucy Zhao, Director of the Sheffield Confucius Institute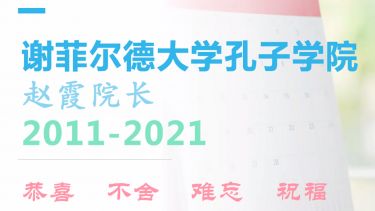 On Monday 5 July 2021, staff and teachers from the Sheffield Confucius Institute gathered to bid farewell to its Director of over 10 years, Dr Lucy Zhao. The event was organised by in-house teachers from the Sheffield Confucius Institute, Duan Zhipeng and Luo Sufang.
Dr Lucy Zhao will shortly be taking up a teaching post at the University of Cambridge.
---
In preparation for the event, both teachers had gathered messages from all staff and other teachers at the Sheffield Confucius Institute, which were shared in a farewell video with Lucy during the event. Lucy was moved, even to the point of tears, while teachers and staff shared their joint memories and achievements over the past few years.
In addition, an E-card was prepared with messages from the SCI's part-time and local teachers, who shared their thanks, congratulations and warm messages virtually.
---
Later on, the teachers then directly shared their personal experiences and feelings with Lucy and reminisced over their time working together and the support they received.
Everyone then watched a video covering the SCI's 10-year anniversary event in September 2017 and a performance by SCI staff and students of a special song celebrating the role the SCI plays in the University and local community.
The farewell event came to a conclusion with a group photos and virtual goodbyes.
Events at the University
Browse upcoming public lectures, exhibitions, family events, concerts, shows and festivals across the University.