Mid-Autumn Festival Events: China - UK Poetry Dialogue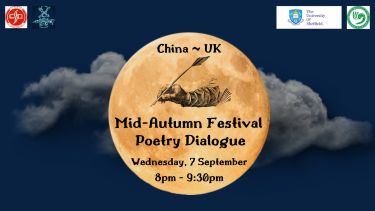 Mid-Autumn Festival Events: China - UK Poetry Dialogue - 07/09/22 - 8pm - 9:30pm - FREE EVENT
Mid-Autumn Festival is a time for reflection, for contemplation and the remembrance of those whom we value but who may be far away. We all live in the light of the Earth-lit moon, wherever we are, and in this spirit of profound sharing we would like to you  to join with us in a wonderful evening of poetry and music.
---
China ~ UK Poetry Dialogue 
The Sheffield Confucius Institute at the University of Sheffield, in collaboration with the University Arms Pub and the Chinese Students and Scholars Association, will facilitate a poetic dialogue between Chinese student poets and local poets with a Mid-Autumn Festival theme on Wednesday, 7th September from 8pm to 9:30pm. 
Interested local poets will be presented with prompts in the form of translated poems by Chinese students inspired by the Mid-Autumn theme. They will have around a week to prepare a poem response, which, after submitting, will be performed at the University Arms on the night. There will also be performances of the Chinese guzheng and Chinese songs for your enjoyment!
Event Program
| Time | Activity |
| --- | --- |
| 8:00pm - 8:05pm | Introduction  |
| 8:05pm - 8:15pm | Presentation on Mid-Autumn Festival by Dequan Miao |
| 8:15pm - 8:25pm | First Guzheng performance (Yingchen Guan) |
| 8:25pm - 8:35pm | Qixuan Gao and Abigail Weathers  |
| 8:35pm - 8:45pm | Xiaozhi Yang and Michael Burton |
| 8:45pm - 8:55pm | BREAK |
| 8:55pm - 9:00pm | Chinese song performance (Mingwei Guo) |
| 9:00pm - 9:10pm | Jiongsheng Hu and Matthew Byrne |
| 9:10pm - 9:20pm | Wenjun Zhu and Karl Riordan  |
| 9:20pm - 9:30pm  | Second Guzheng performance (Lingxi Zang) |
---
**An Introduction to Mid-Autumn Festival**
Dequan Miao
Dequan Miao is a Senior Lecturer in Qingdao University of Technology. He is the author of two books Moral Education of College English and Nucleus of College English. He is an academic visitor to the University of Sheffield, funded by China Scholarship Council, with research field covering Second Language Acquisition and cultural differences between China and UK. He will give short presentation about the Mid-Autumn Festival and its history. 
**Contributing poets** 
Matthew Byrne 
Matthew Byrne graduated with his MA in Creative Writing in 2012, he moved to Beijing in 2013 and founded the Spittoon Arts Collective in 2015. He moved back to the UK in 2020, where he now works as the Marketing Officer for the Sheffield Confucius Institute.
Qixuan Gao 
Qixuan Gao is currently studying East Asian Studies BA at the University of Sheffield.  Before enrolling in 2020-2021, he served as teaching assistant of Hefei Luyang Academy. Responsible for assisting teachers with teaching Confucian classics such as "The Great Learning" and "Di Zi Gui" for primary school students and co-founded with teachers to  establish Himalayan "The Analects and Life Cultivation" radio column.
Karl Riordan 
Karl Riordan is a working-class writer funding his craft as a Library Assistant. His writing has been published in journals and in 'How Do You Sleep?' New Stories by Sheffield Writers. He lives in Sheffield for now but is open to offers. 'The Tattooist's Chair' is his first full-length book of poems and has short stories in Ambit and with Comma Press.  He has a second book out in the pipeline called 'Tinikiling' drawing on personal and political experiences in the Philippines.  He's also a socialist and wants a change...
 'Karl Riordan's debut is a marvellous book, honest and authentic, rooted in experience. Carefully crafted and skilfully developed, these vivid, vibrant and textured poems narrate autobiographical vignettes, family memories and aspects of life in the Northern working class communities in which the poet was raised. Reminiscent of the early work of Harrison and Heaney, these deeply felt, compassionate and committed poems compel and reward re-reading.'

Daljit Nagra 

On The Tattooist's Chair by Karl Riordan 
Wenjun Zhu
Wenjun Zhu received the B.Eng. degree in electrical engineering and automation from Beijing Institute of Technology, Beijing, China in 2013, the M.S. degree in sustainable energy systems from the University of Edinburgh, Edinburgh, U.K. in 2015, and the M.Eng. degree in electrical engineering from Beijing Institute of Technology, Beijing, China in 2016. From 2016 to 2020, he worked in the automotive industry in Shanghai, China. He is currently working toward the Ph.D. degree in the University of Sheffield. He is 一个没有才华的诗人,一个家国情怀的匠人,一个入世修行的庸人。
Abigail Weathers
Abigail Weathers is a teacher and copy editor living in Beijing, China. A member of the Spittoon Literary Collective, she facilitates the Spittoon Poetry Workshop and is a poetry editor for Spittoon Monthly. Her poetry appears in A Shanghai Poetry Zine, Sky Island Journal, SAGINAW, Trouvaille Review, and Identity Theory.
Michael Burton 
Michael Burton is a poetry writer from Bacup, Lancashire and has moved to Manchester this year after previously living in Beijing for over seven years. His poems have been published most recently in Interpreter's House, The Honest Ulsterman, Pennine Platform, The Lake and Ink Sweat and Tears. He also writes and performs under the name NotAnotherPoet and is one half of the spoken word/post-industrial punk rock outfit New Age of Decay whose debut album can be found on all major streaming networks. Back in Beijing, he was also the co-coordinator of the Spittoon Poetry Workshop which provided a supportive platform for international and local poetry writers in the city. 
Xiaozhi Yang
My name is Xiaozhi Yang and I come from Beijing, China. Now I am a PhD student in the Department of Landscape. I am fond of historic culture and the traditional lifestyle, such as living with writing poems, doing embroidery, wearing traditional clothes and making up traditional hair style, etc. Historic gardens are my topic, where they act as a comprehensive material carrier of traditional life. To some extent, sociation is not my strong point as an introvert. However, I'd be happy and I'd very much hope to talk with others. This is the way to integrate into the other's culture and lifestyle.
Jiongsheng Hu
As a native of Hangzhou, I graduated from the Shanghai Theatre Academy and currently studying Creative and Cultural Industries Management at the University of Sheffield.
---
Chinese Guzheng and Song Performance
Local guzheng players, Lingxi Zang and Yingchen Guan will play the guzheng during the event, a beautiful instrument and the perfect accompaniment to a poetry reading! They will be joined by Mingwei Guo who will be performing Chinese songs. 
**Contributing Musicians**
Yingchen Guan
I started to learn how to play Guzheng since 2006. I have participated in national Guzheng competitions for many times and won gold medals for solo and group playing. 
Lingxi Zang
Lingxi Zang graduated from the University of Sheffield with a master's degree.She is working in an import and export company in the UK. She has studied Guzheng and piano since childhood ( later obtained the Chinese Conservatory of Music's Guzheng professional teacher qualification certificate). She loves dancing, painting, photography and has participated in many competitions in China and won awards.
Mingwei Guo
Mingwei Guo is a Chinese music lover and has sung many covers of Chinese pop music. He began to learn erhu and music at the age of 5, and he is now at grade Erhu Grade 10. He has participated in many competitions and has a lot of stage experience. Mingwei once went to Beijing for a children's Spring Festival Gala performance. He can sing Beijing Opera, and he has mastered a variety of skills. He is now studying for a Masters in Civil and Structural Engineering at Sheffield University
---
The University Arms Pub
The event is set to take place in the function room of the University Arms Pub, a wonderful pub near the Sheffield University campus which will be the perfect setting for music, poetry... and a beer or two!
Address: 197 Brook Hill, Broomhall, Sheffield S3 7HG
---
Do I just show up? Is it free?
Yes and yes! We're delighted to stage this free event and it'd be great to see you there. Try to get in a little earlier than 8pm to guarantee a seat...
Contact us: confucius@sheffield.ac.uk 
---
Thank you for reading!
Take a look at the links below to read more about the SCI's recent activities and events!
Events at the University
Browse upcoming public lectures, exhibitions, family events, concerts, shows and festivals across the University.