SCI Newsletter April - June, 2022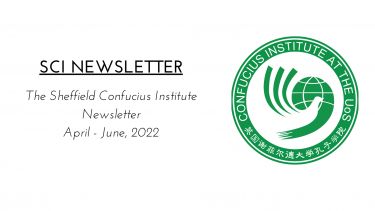 SCI Update
The Confucius Institute at the University of Sheffield has continued to hold language courses, activities, exams, seminars and cultural events during April, May and June, 2022.
Read on for more details!
---
Virtual Mandarin Chinese Summer School, 4th-29th July, 2022 - APPLICATIONS CLOSE JULY 4TH
As part of our Mandarin Chinese language learning activities this year, the Sheffield Confucius Institute has organized the Virtual Mandarin Chinese Summer School 2022. A great chance for intensive and bitesize Chinese language training experience, with excellent teachers who are absolutely dedicated to their students and their learning. 
The summer school classes will be based on the language levels Beginners and Intermediate and students will participate in 2 x 2 hour classes per week, held on Tuesdays and Thursdays. For convenience, participants can choose from 2 time slots on Tuesdays and Thursdays; 11-1pm OR 6-8pm UK time.
Please indicate which time slot you will attend when purchasing the course. You should attend the same time slot for the duration of the course.
Please note: The registration deadline is Monday 4th July at 2PM. Please ensure you have registered by this time.
For further information please visit https://www.sheffield.ac.uk/confucius/events/summer-school-adults

To sign up for classes directly: SCI Adult School Online Shop
---
HSK tests - Held 14 May in person and 25 June as a 'home edition'
HSK and HSKK exams were held in person on Saturday 14th May 2022, this is great news for the SCI as originally the HSK exams were held online to account for COVID 19. However, the HSK/HSKK exams also took place on Saturday, 25th June as a 'home edition'. This version of the test originally was created for use during the COVID 19 pandemic, but has been reintroduced, adding to the overall versatility of options for students. To find out more about our Chinese proficiency tests please visit our website at: https://www.sheffield.ac.uk/confucius/proficiency-tests
---
May Fayre 22 May
The Sheffield Confucius Institute were out and about on the 22nd of May to celebrate the May Fayre,  a wonderful outdoor family fair with a wealth of fun activities hosted by Sheffield City Hall at Weston Park. The SCI was right in the middle of the fun, with everything from Chinese dragon dancing to mask painting, Chinese costume wearing and Chinese calligraphy writing.
It's not every kid in Sheffield who can boast to their friends that they can write their names in Chinese characters! All the activities lasted for almost 7 hours and the team of SCI staff and teachers had earned a much needed rest after a great day of interactions to demonstrate the beauty of Chinese culture. 
Every representative from the university was so welcoming , helpful and engaging which was lovely. My family and I thought it was a really interesting and entertaining area of the fayre.

Western Park May Fayre

Attendee
---
Double Celebration Event - Dragon Boat & Queen's Platinum Jubilee
On 30 May, the Confucius Institute at the University of Sheffield held a unique "East Meets West--- Double Festival Celebration" at a venue in the heart of Sheffield. The Chinese traditional Dragon Boat Festival coincided with the Queen's Platinum Jubilee, which offered a unique chance to explore both as a joint celebration. Such a blend only helps to create a platform of mutual understanding and friendship, and our guests weren't disappointed! 
A total of 73 people attended the Double Celebration on the afternoon of May 22nd, a four hour event comprising cooking workshops - with Chinese festive food like zongzi and dumplings and British cakes. There were also talks, chats, knowledge quizzes and games. With such a high attendance and such a great blend of activities to celebrate both events, it proved to be a lovely way to promote friendship and understanding between the east and the west. 
---
Star Mandarin Summer School (Introducing STEM) - July 25th - July 28th
The Star Mandarin School is Sheffield's premier Chinese language school with up to 800 hundred students during its regular semesters. Now that Summer is upon us, we can't wait to get our summer school started, a 4 day rollercoaster ride of fun learning and activities that are bound to get the students excited to learn! The subjects of this year's Summer School have increased to include the STEM (Science, Technology, Engineering, Maths) subjects; enjoyable, dynamic lessons delivered by teachers well-trained in the innovative and successful way that makes Chinese and STEM lessons famous throughout the world.
With a team of dedicated teachers with years of experience, we've been proud of the success of our school that's been nurturing young minds since 2012. Please register at the University Online Shop (link below).
Please also provide a packed lunch for your child or you can take your child away for lunch (12:00-13:00pm). Drinks, fruit and biscuits will be provided during break time.
For more information, please contact: Dr. Hu. Tel: 07593502130. Email: starschool@sheffield.ac.uk.  University Online Shop: Mandarin Summer School for Children 2022_ In Person | University of Sheffield
---
 UK-China Seminar Series Project - Second instalment 
At 9:00 a.m. UK time on June 27, the Sheffield Confucius Institute staged its second instalment of the UK-China Humanities Forum, in collaboration with Peking University. The event was jointly sponsored by Kunqu Heritage and Research Center of Peking University, and online guests were treated to a host of fascinating and incisive lectures and performances, from speakers, musicians and Kunqu opera actors / actresses alike.
In the collaborative spirit of the seminar, University of Sheffield's own Department of Music Professor, Dorothy Ker, gave a fascinating lecture entitled: 'Merging or Conversing?: Reflections of a Western Composer Writing for Chinese Instruments'. A talk in which she revealed her fascination with Chinese instruments like the guzheng and how their exploration and manipulation in a western context has allowed her to manifest exciting new visions of her localities in New Zealand and the UK. 
Audience members also enjoyed five wonderful performances throughout the event - from Kunqu performance's: "Changshengdian Restaurant", "Peony Pavilion • Frightening Dream", to guqin solo performances: "Dongting Autumn Thoughts", String Song: Water Tune Song Head", or Harp Ensemble: "Nagato Grudge". All in all, this blend of philosophy and music contributed to a compelling event of collaboration and cooperation between composers from the east and the west.
---
Thank you for reading!
Take a look at the links below to read more about the SCI's recent activities and events!
A world top-100 university
We're a world top-100 university renowned for the excellence, impact and distinctiveness of our research-led learning and teaching.