SCI Newsletter - January, 2023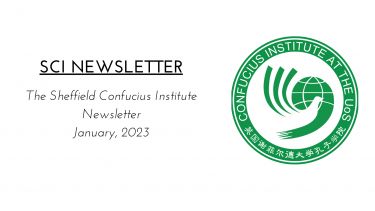 Chinese Calligraphy Classes Make Their Mark
Tao Ting, one of our teachers, has been impressing students with her calligraphy classes. In these classes, delivered every two weeks, students learn a variety of words, phrases and expressions. Inspired by the therapeutic nature of Chinese calligraphy, these classes are a great way to relax with friends. Everyone's welcome - come join us on 15th February at 7pm in Bartolome House for the next class. Email confucius@sheffield.ac.uk to register your interest! 
SCI Shines at the 2023 Chinese New Year Gala 
The Chinese New Year Gala is always a time to shine for the Sheffield Confucius Institute (SCI) and this year did not disappoint. With help from talented local students and our dedicated teachers and staff, the SCI staged a host of activities, from Chinese Calligraphy, Chinese painting, Chinese paper cutting to Chinese language games and puzzles. Everyone was spoilt for choice with the activities on offer. The SCI was also proud to display the successful results of its 'Perspectives: 2022' photography competition and its School Arts Competition. Dr Malcolm Butler, Director of Global Engagement at the University of Sheffield said:
It's just lovely to be here. The pictures and the art that the kids have done is great… Today is what it's all about in terms of the Confucius Institute, bringing together the UK and China and exploring each other's cultures and it's just great to be here.

Chinese New Year Gala 2023

Dr Malcolm Butler, Director of Global Engagement
China - UK: Perspectives 2022 - Photography Competition Success
Each year, as part of Sheffield's wider Chinese New Year celebrations, the Sheffield Confucius Institute organises an annual photography competition. This competition, China - UK: Perspectives 2022,  explored perspectives from China and the UK in the context of four categories:
Famous Landscapes & Cityscapes
Cultures & Customs
Everyday Life
Artistic Images
Participants are invited to submit their photographs for a chance to win prizes. Allowing participants an opportunity to showcase unique aspects of their life in both the UK and China. Attracting budding photographers from around the country, the competition provides everyone with an opportunity to appreciate the country's respective cultures and a personal insight into other peoples' lives.
All submissions were showcased in the Ballroom at City Hall on Tuesday 24 January, forming part of the well-known 'Pre-Show', an activity-led event featuring Chinese calligraphy, Arts and Crafts, traditional paper folding. The annual Pre-Show also provides an exciting run up to the impressive Chinese New Year Gala, which takes place at the Irwin Mitchell Oval Hall in City Hall.
CNY Zodiac School Arts Competition Success
The annual school arts competition has always been a lovely way for the SCI South Yorkshire school network to collaborate together on a project focusing on Chinese culture - in this case Chinese New Year. Students from across South Yorkshire produced Rabbit zodiac inspired artwork. We couldn't be happier with this year's turn-out and quality of work.
HSK/HSKK - Internet-Based and Home-based Chinese Proficiency Exams
As a registered test centre, the SCI regularly holds HSK and HSKK proficiency exams throughout the year. The SCI recently held in person internet-based exams on Sunday 4 December 2022 and Saturday 7 January 2023. This year, the SCI will organise in person internet-based exams in March, June and December, as well as a home-based exam in May.
The next round of exams will be held on Saturday 18 March 2023 and will take place in person on campus at the University of Sheffield - the exact venue to be confirmed.
To register for this exam or for more information, please contact confucius@sheffield.ac.uk.
Teacher Training at Birkdale High School 
We pride ourselves on our teachers being professional and well trained. Birkdale High School, a local high school in Sheffield, has been a valued collaborator in our SCI Mandarin Classes for Schools scheme, and it was a pleasure to enrol our teachers in their Continuous Professional Development (CPD) workshops. Focusing on Mandarin Chinese teaching and learning methods, these workshops were a great opportunity for our teachers to develop their core skills within a UK learning and teaching environment.
Welcome to our New Sponsored Teachers!
We're delighted to welcome our new sponsored teachers Li Junchi, Du Jiaxing and Chen Lina. Our teachers recently arrived from China and they've been settling in brilliantly - they've already started teaching and have received glowing testimonials from their students. Here's to a great year of teaching, growth and discovery together! 
Adult Course Spring Semester Begins 
We're excited to begin the Spring Semester of our acclaimed adult learning courses. All HSK levels (1-6) and Chinese language levels from Beginners to Intermediate and Advanced are catered for. For more information on our adult learning courses, please visit: www.sheffield.ac.uk/confucius or contact us at confucius@sheffield.ac.uk
---
Thank you for reading!
Take a look at the links below to read more about the SCI's recent activities and events!
A world top-100 university
We're a world top-100 university renowned for the excellence, impact and distinctiveness of our research-led learning and teaching.