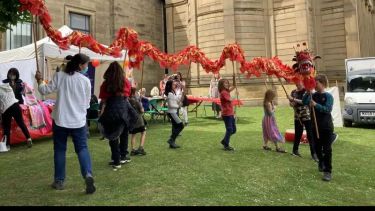 On Sunday 22May 2022, the Weston Park May Fayre, hosted by Sheffield City Council and co-organized by the University of Sheffield, opened in Weston Park, Sheffield.
This year, the annual May Fayre returned to Sheffield for the first time since 2019. The Confucius Institute at the University of Sheffield participated in this event at the invitation of Sheffield City Council and held a variety of Chinese-themed cultural experiences and workshops, such as calligraphy, Peking Opera painting and mask-painting, dragon dance, traditional costumes, and much more.
The activities allowed participants and members of the general public to experience Chinese culture first-hand and without the 8-hour time difference! The Sheffield Confucius Institute sent a five-member team consisting of full-time teachers Zhipeng Duan, Jia Li, Yanan Liang, Qian Li and the Sheffield Confucius Institute Project coordinator Olivia Hodson-Barnes to participate in the May Fayre.
The Confucius Institute event attracted nearly 1,000 people on the day and the fayre itself was bustling with excitement.
As one of the most popular aspects of Chinese culture, calligraphy, this characteristic art form, became one of the most eye-catching activities of the day. There was an endless stream of people in front of the booth and the calligraphy experience area also attracted many children, eager to have a go themselves.
One of the most popular experience projects was also to be given your very own Chinese name. Many participants said, "I have never studied Chinese, but I like Chinese characters very much. I think it is a very beautiful language!".
Painting Peking Opera masks and trying on traditional national costumes also allowed local people from Sheffield to experience unique Chinese culture in an immersive way. After trying on traditional Chinese national costumes, many of the audience also took out their mobile phones to take pictures as a small memento of the day.
Another popular project on the day, that attracted a lot of attention was the traditional "Dragon Dance". Both adults and children joined in one after another, and the team gradually became larger and larger.
With the exciting sound of gongs and drums, the dragon danced around and leapt high in the air, circling and circling, attracted bursts of cheers from all the participants.
The May Fayre lasted for around 7 hours and as the sunset was falling, and the event gradually came to an end. While cooperating with a variety of local stalls and other entertainment activities which also joined the fayre, this event greatly showcased the uniqueness of Chinese culture and strengthened the communication and mutual understanding of Chinese and English cultures.
The Sheffield Confucius Institute will continue to actively promote cultural understanding, Chinese language learning and cultural exchanges between both China and the UK.
Events at the University
Browse upcoming public lectures, exhibitions, family events, concerts, shows and festivals across the University.