Bruker Nano Surfaces co-hosts 'very successful' workshop with the Henry Royce Institute in Sheffield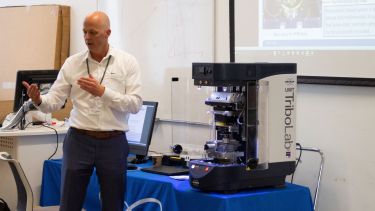 The Henry Royce Institute in Sheffield hosted a workshop with Bruker Nano Surfaces on Wednesday 31st July.
The day was made up of eight talks, and a series of practical sessions with Bruker equipment. Professor Mark Rainforth introduced the Henry Royce Institute to delegates discussing the key activities taking place across the Royce partners and specifically in Sheffield. This was followed by three presentations:
Dr Matt Carre - representing Prof Roger Lewis' Lab - provided research applications on General Friction and Wear from Life Science to Railway Engineering;
Dr Jaroslav Lukes - Bruker NanoIndentation Group - ran through applications using Advanced Materials Characterisation with Nanoindentation;
Dr Steve Shaffer - Bruker Tribology and Mechanical Testing Group in San Jose (USA) - gave an introduction in Advanced Material Performance with Tribology.
The delegates were then divided into 4 groups for the practical sessions that covered the following challenges and applications:
Nanoindentation with high-speed property mapping using the TI Premier system;
High temperature Tribology and hardness testing using the UMT-Tribolab system;
Characterisation of lubricants with HFRR module and Stribeck testing using the UMT-Tribolab system;
Roughness and surface characterisation using 3D Optical Metrology using the Contour Elite-K system;
Optical inspection and surface measurements using the Bruker Alicona InfiniteFocus SL system.
The afternoon sessions continued with further talks. Prof. Mark Rainforth - from the Department of Materials Science and Engineering at the University of Sheffield - highlighted the work of the group on Metals, Ceramics and Composites and their Advanced Materials Characterisation. Dr Michael Bryant - School of Mechanical Engineering from the University of Leeds - reviewed applications around Tribo-corrosion, Bio-tribology and surface science; Dr David Armstrong - Department of Materials at the University of Oxford - showed the latest data on battery research using In-situ Nano-indentation and EBSD of lithium. Finally, Dr Doris Khaemba from The Manufacturing Technology Centre (MTC) in Coventry discussed the effect of surface structuring in soft tribological contacts.
The event was well received by the materials community with over 80 representatives from organisations such as British Steel, Boeing, Doncaster Aerospace and TWI in attendance.
Bruker Sales Manager, Boumedienne Boudjelida, was very pleased with the event:
The Henry Royce Institute in Sheffield did a great job helping us organise this very successful event. Delegates did learn a lot not only on the capability of the latest technologies for Advanced Materials Characterization but also on the role and access to the Royce Institute."

Boumedienne Boudjelida

Bruker Sales Manager
The Henry Royce Institute in Sheffield welcomes industrial partners to co-host events relevant to their major theme of Advanced Materials Processing. If you'd like to discuss this opportunity, please contact Royce@Sheffield.ac.uk.
Connect with the Henry Royce Institute
To discuss how we could work together to develop the next generation of materials for a sustainable world, contact us by email or find us on Twitter and LinkedIn.
Flagship institutes
The University's four flagship institutes bring together our key strengths to tackle global issues, turning interdisciplinary and translational research into real-world solutions.