Materials discovery to be transformed by new cutting-edge research centre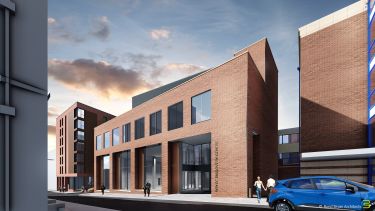 The Royce Discovery Centre, part of the Henry Royce Institute in Sheffield, will focus on early-stage, fundamental research into the discovery of new materials and processing.
Expected to be fully operational in 2021, the centre will feature state-of-the-art specialist laboratories and workshops, and will house the very latest technologies in 3D additive manufacturing, digital manufacturing and nanocharacterisation.
The centre will be based in a new building - named after the renowned Sheffield metallurgist Harry Brearley. Despite the huge challenges presented by the Covid-19 pandemic, construction has been completed on the Harry Brearley Building on Portobello Street - in the heart of the University of Sheffield's campus. 
The facility will benefit from the very latest in world class equipment provided by the Henry Royce Institute for Advanced Materials, and specialist equipment and expertise that is already present in the University's Department of Materials Science and Engineering – one of the UK's most renowned teaching and research centres in materials science.
The centre will work in tandem with the Royce Translational Centre, located at the University of Sheffield Innovation District, to take these new research discoveries and work with companies to help apply them to their manufacturing challenges. Together they will help to train the next generation of materials scientists in order to bridge the UK's skills gap in this area.
Professor Mark Rainforth, Principal Investigator at the Henry Royce Institute in Sheffield, said: "Five years ago we were asked by the government to create a world-leading Materials Science and Engineering Institute. We believe we have done just that.
"The Royce Discovery Centre will fulfil our vision of delivering world-class materials discovery and manufacturing and provide an international statement on developing future technologies." 
Professor John Haycock, Head of the Department of Materials Science and Engineering at the University of Sheffield, added: "The completion of the Royce Discovery Centre is a landmark moment for our department. It will transform fundamental research in materials, by leadership of the Henry Royce Institute programme in Advanced Metals Processing.
"This state-of-the-art facility will integrate with applied research programmes at the Royce Translational Centre, and will create a platform for academic-industry partnerships across manufacturing, transport, energy and healthcare sectors through partnership of the Royce."
The Henry Royce Institute in Sheffield champions sustainable manufacturing through resource efficiency, providing an environment where academics and industry can collaborate to address materials processing challenges. These collaborations create new engineering components for high performance industrial applications, generating new knowledge, translation into industry and impact.
David Knowles, CEO at the Henry Royce Institute, said: "It is fantastic to see the Royce Discovery Centre achieve this key construction milestone. The research undertaken in this new facility will provide a major contribution to the delivery of Royce's vision of 'Advanced Materials for a Sustainable Society', enabling innovation and world-leading research in sustainable manufacturing.
"As part of the national institute, the Royce Discovery Centre strengthens the UK's research and development facilities portfolio supporting both industry and academia in advanced materials research and innovation."
---
Bond Bryan Architects designed the new building, which features a brickwork façade and large glazed windows providing a shop window into the work being carried out, while allowing a large amount of natural light to flood the interior.
Bond Bryan Associate Paul Shaw said: "Our aim was to create a building that respects the neighbouring buildings and surrounding street scene - adding a confident piece of contemporary design to Sheffield's urban grain - and to inspire those who have the pleasure to learn and work within it.
"While the building appears simple and clean on the outside, this was a technically challenging project. High levels of vibration control, noise control between differing adjacent spaces and safe operation of the different research processes all needed to be carefully considered. The centre's design helps support different, modern ways of working and facilitates a range of different activities. We're extremely proud of our association with the project and the quality of the end result."
---
Tony Shaw, Operations Director, Henry Boot Construction, added: "We are proud to continue our long-term relationship with the University of Sheffield through our work on the innovative new Royce Discovery Centre. As a Sheffield-based contractor, we are excited to be part of bringing this unique national research centre to our home city.
"The Covid-19 pandemic has brought its challenges, with a slight pause to construction required whilst we re-assessed our approach and implemented social distancing measures across all our operations. We were able to quickly adjust our working practices and welfare facilities to ensure the site was COVID-19 secure and work could continue.
"It's great to see another top-class facility delivered for the University and we are delighted by the fantastic team effort from everyone involved in the project."
The University of Sheffield's Department of Materials Science and Engineering is a founding partner of the Henry Royce Institute, the UK's national centre for the research and innovation of advanced materials.
The department's knowledge and experience in the field of powder metallurgy means that they are best placed to lead on the Institute's theme of Advanced Metals Processing, and can additionally provide expertise in two other Royce themes - Biomedical Materials and Nuclear Materials.
Connect with us
Let's work together to develop the next generation of materials for a sustainable society.
Contact us by email or find us on Twitter and LinkedIn.
Flagship institutes
The University's four flagship institutes bring together our key strengths to tackle global issues, turning interdisciplinary and translational research into real-world solutions.