New FAST machine makes exciting addition to Henry Royce Institute capabilities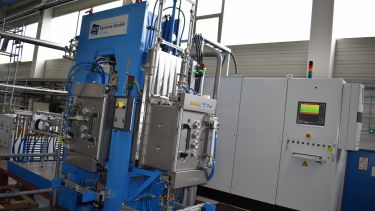 The SPS machine will be housed in the new Royce Discovery Centre and, once operational, it will be available to the UK manufacturing community as well as staff and students from across the country to use in the research and development of new materials solutions.
FCT Systeme FAST capability
The uptake of the rapid, solid-state consolidation process - field assisted sintering technology (FAST) or spark plasma sintering (SPS) - has increased significantly over the last five years for structural metals.  The concept of using an electric current/field to assist in consolidation of ceramic powders has existed for over a century; today the modern FAST process is being exploited to manufacture traditionally difficult-to-process alloys into near-net shapes.  
FAST has advantages over hot isostatic pressing as more rapid sintering can be achieved without the need for process-limiting steel canning and degassing steps. In addition, the process has benefits for material utilisation and reuse of waste material.
In Sheffield, FAST has been effectively combined with closed die forging to provide UK industry with a low-cost hybrid processing route – termed FAST-forge. Today, the Henry Royce Institute is working with partners such as the High Value Manufacturing Catapult Centre - Advanced Forming Research Centre, regional businesses, long-standing supply chain manufacturers and multi-nationals to translate the UK-developed technology into next generation components.  In addition, FAST technology can be used to join dissimilar powder materials and provide functionally graded material solutions for designers.
The new large-scale FCT Systeme FAST machine housed in the Royce Discovery Centre from September 2020 will provide the UK manufacturing community with a novel and exciting platform to develop new materials solutions for the post-Covid future.  

"We welcome you to come and use the facility and allow the Royce team to demonstrate the capabilities of this new and exciting advanced metals processing technology."

Professor Martin Jackson

Core Area Champion for Advanced Metals Processing at the Henry Royce Institute
To find out more about how you can use Henry Royce Institute resources and equipment, please get in touch by emailing royce@sheffield.ac.uk.
Connect with us
Let's work together to develop the next generation of materials for a sustainable society.
Contact us by email or find us on Twitter and LinkedIn.
Flagship institutes
The University's four flagship institutes bring together our key strengths to tackle global issues, turning interdisciplinary and translational research into real-world solutions.