A Sticky Situation sees University of Sheffield's Lauren Eggleton win Young Person's Lecture Competition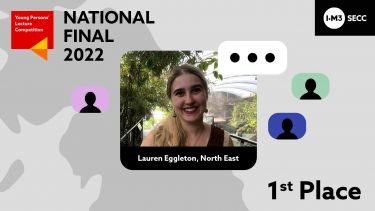 ---
Lauren Eggleton, a second year PhD student in the Materials Science and Engineering Department at The University of Sheffield, has won the prestigious IOM3 Young Persons' Lecture Competition (YPLC), which sees students and professionals up to the age of 28 delivering a lecture on a materials, minerals, mining or engineering related subject.
---
This year's YPL Competition UK final took place on 4 May 2022 and was sponsored by Royce, The Worshipful Company of Armourers & Brasiers Midland Institute of Mining Engineers and East Midlands Materials Society.
Lauren, who also represented the North East, gave a lecture entitled 'A Sticky Situation: The Contradictory Material Properties of Snail Mucus.'
In her presentation she set out how nature has evolved a vast range of 'smart' materials and is currently an untapped resource for novel biomedical and engineering applications, with a surprising example being snail mucus. Embodying two contradictory properties, adhesion and lubrication, this material can switch seamlessly between them whenever the functional need arises. But how does it do this and can we replicate it?
---
Speaking about her win, Lauren said:
I didn't see it coming. I thought the other presentations were incredible and I just feel honored the judges felt mine was worthy of winning compared to everybody else as the standard was so high.

Lauren Eggleton

PhD Student | Department for Materials Science and Engineering, The University of Sheffield
---
Lauren will go on to represent the UK at the IOM3 Young Persons' World Lecture Competition final in November.
Second prize was awarded to Anna Tholen, representing the Midlands on 'Effects of Local Thermal History on H13 Tool Steel Components Fabricated by Laser Powder Bed Fusion Additive Manufacturing.' 

Ivan Grega, representing the South East on 'Scalable Manufacture of Inverse Opal Metamaterials' took home the third prize.
---
Neil Glover FREng CEng FIMMM, IOM3 President, said:
It was fantastic to see the Young Persons' Lecture Competition 2022 UK final return to the Armourers' Hall after being held virtually for the last 2 years. The event is all about recognising and developing skills in the next generation of materials, minerals and mining professionals – the breadth of knowledge and passion was clear to see. Congratulations to all this year's finalists.

Neil Glover

IOM3 President
---
The judging panel included Dr Cecilia Mattevi, Royal Society University Research Fellow in the Department of Materials at Imperial College London (representing Royce), Dr Aimee Goodall CSci MIMMM SECC Chair & Chair of YPLC judging panel, Dr Ilija Rasovic MIMMM SECC Vice-Chair, and Stewart Bullock CEng FIMMM representing Midland Institute of Mining Engineers.
Find out more about all the fantastic finalists and watch their presentations below:
https://www.iom3.org/events-awards/competitions/yplc.html
---
Connect with us
Let's work together to develop the next generation of materials for a sustainable society.
Contact us by email or find us on Twitter and LinkedIn.
Find a PhD
Search for PhD opportunities at Sheffield and be part of our world-leading research.