Alloy Design and Development for High-Performance Structural Applications
Jet engine manufacturers continuously strive to improve efficiency and reduce emissions, however, such advances are often limited by the materials available.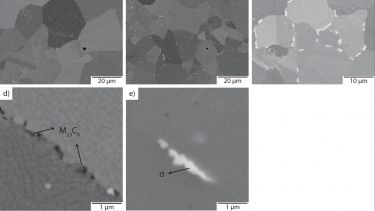 Off
---
A collaborative project, as part of the Rolls-Royce/EPSRC strategic partnership, identified a new set of alloys that met all the requirements for the next generation of Rolls-Royce jet engines. These alloys have now been patented and are being tested for entry into service in around 2025.
---
ABOUT THE PROJECT
This project focused on developing nickel-based superalloys utilising increased concentrations of cobalt and titanium additions.

Several reports in open literature indicated the benefits that increased additions of cobalt and titanium offer to nickel-based superalloys in terms of their mechanical and thermal performance, yet these had not been explored for industrial use as insufficient data was available.

By building upon this principle, several model alloys based on the nickel-cobalt-aluminium-titanium-chromium system were designed and tested in order to build a database extending beyond the traditional composition space of nickel-based superalloys. Combining these fundamental experimental studies with thermodynamic modelling techniques and trials on more advanced alloy systems led to the development of a set of powder-processed high cobalt-titanium nickel-based superalloys comprising of around ten different alloying elements.

This project was part of the Rolls-Royce/EPSRC strategic partnership for Structural Metallic Systems for Gas Turbines, lead by The University of Cambridge in collaboration with Swansea University, The University of Birmingham, and Rolls-Royce PLC. 
---
ROYCE CONNECTION
Whilst this work was undertaken prior to the establishment of Royce at the University of Sheffield, the research would have benefited through acceleration due to the infrastructure now in place, with particular focus on Arc Melting for material production.
Royce at the University of Sheffield provides access to Vacuum Induction Melting, as well as Rolling, which would enable an increase volume of material to be produced with a desirable grain structure. This would allow for advanced mechanical testing to be performed. 
Furthermore, these materials are traditionally manufactured using powder processing. Royce at the University of Sheffield now provides facilities for bespoke alloy atomisation and consolidation, which further provides additional capabilities for establishing the best methods of practice in manufacturing. 
---
IMPACT
This work has been of great strategic importance to Rolls-Royce PLC and their civil aviation division. It has resulted in several patents to be filed on behalf of Rolls-Royce and identified alloys that are being tested for entry into service in 2025.

The introduction into service of such alloys will enable increases of the specific fuel efficiency of new jet engines by 1%, whilst also having implications on the competitiveness of the UK aerospace industry. The testing and qualification testing programme for this new material will provide funding in excess of £30m to UK and EU providers, employing several engineers over the next decade. Furthermore, the continuation of this work will allow for faster introduction into service of new products in subsequent generations of jet engines.
The materials and methodologies developed here are not only vital to the aerospace industry, but also provide a toolkit for use in a host of different industrial settings, including the automotive and energy sectors.
---
Connect with us
Let's work together to develop the next generation of materials for a sustainable society.
Contact us by email or find us on Twitter and LinkedIn.
Flagship institutes
The University's four flagship institutes bring together our key strengths to tackle global issues, turning interdisciplinary and translational research into real-world solutions.