We need to put fruit and veg back at the centre of our communities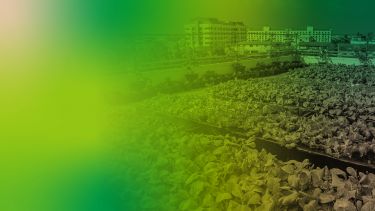 By Dr Jill Edmondson and Dr Sam Caton
The supply of fresh fruit and vegetables is crucial to a healthy and food secure nation. This is central to achieving the overarching future goal in the National Food Strategy (NFS) of a food system that 'makes us well instead of sick'.  
The NFS target of a 30 per cent increase in fruit and vegetable consumption in the UK by 2032 raises two key questions. Where can these fruit and vegetable crops be grown in a sustainable way? And, how do we encourage people to increase their consumption of fruit and vegetables? These are hugely complex and interrelated challenges. Here, we will detail the role of increasing fruit and vegetable production in cities - urban horticulture - and its potential to contribute to meeting the ambitious targets set out in the NFS.  
The hidden potential of urban horticulture is largely overlooked in the NFS. However, urban horticulture has historically been important to national food and nutrition security.  In the UK during the "Dig for Victory Campaign", 18 per cent of the fruit and vegetables the population ate were grown domestically in allotments and gardens (Defra, 2017).  
With more than 84 per cent of the population in the UK now living in cities and towns as a nation we are largely detached from primary food production. However, there is increasing evidence suggesting that urban horticulture could make a significant contribution to local and national food security. In addition, urban areas contain some of the most deprived communities in the UK, with health inequality linked to poor quality, nutrient-poor diets. Therefore increasing urban horticultural production could place fruit and vegetable production back at the centre of local communities to improve access, availability and consumption.  
Commercial horticulturally grown fruit and vegetable crops provide just over half of the vegetables and under 20 per cent of the fruit we eat in a very small area of land - equivalent to 23 m² per person (Defra, 2019). Recent research carried out in Sheffield, found that there was the equivalent of approximately 97 m² per person in the city that could potentially be used for growing fruit and vegetables; enough land to feed more than 120 per cent of the population on their five-a-day Eatwell diet (Edmondson et al. 2020), https://www.nhs.uk/live-well/eat-well/the-eatwell-guide/).  
Clearly, not all of this land should or could be used for growing food - the Covid-19 pandemic has demonstrated the importance of greenspaces for many health and wellbeing benefits. But if just 10 per cent of this land was used for growing fruit and vegetables combined with existing allotments in the city there is potential to grow enough to feed 15 per cent of the population on their five-a-day Eatwell diet. This would represent a considerable increase on the estimated 3 per cent of the population currently fed on their five-a-day from existing urban allotments (Edmondson et al 2020). 
Growing food in cities is not confined to greenspaces, the technological advancement of soilless growing could increase this potential further with opportunities to grow high yielding, high value produce on rooftops in cities and in disused buildings (Edmondson et al. 2020).  
Expanding fruit and vegetable production in cities could reduce pressure on high quality agricultural land typically used to grow horticultural crops in the UK, potentially feeding into the compartment model of rural land management proposed in the NFS. However, space to grow is just one part of the challenge. 
Shifting fruit and vegetable production into cities also represents a socio-cultural challenge. How do we get people to engage with growing food, and can it be economically viable? These are questions that could be addressed, using a community-led approach, funded through the £500 million challenge fund proposed in the NFS as this would focus directly on developing new ways or spaces to grow fruit and vegetables. 
Development of urban horticulture in local communities would strengthen the core recommendations that came out of the NFS, for example the "Eat and Learn" initiative, the proposal to prescribe fruit and vegetables as part of a Community Eatwell Programme, and it could contribute to changing the way we use land and enable a shift to sustainable fruit and vegetable production. 
The National Food strategy gives us the opportunity to reassess how and where we grow our food, and how we engage local communities in the process. At the Institute for Sustainable Food we want to see the government exploring mechanisms to engage urban communities with fruit and vegetable production through community gardens, allotments, schools and micro-scale hyperlocal farms. Expansion of urban horticulture could feed into hyperlocal veg box schemes, but we should also prioritise understanding of the role of local authorities, schools, primary care networks and others as anchor institutions to ensure stability for emerging hyperlocally produced fruit and vegetables. If this can be achieved we can expect to see health benefits not just to nutritious diets, but also to the wellbeing benefits that growing food in the community can bring.
Accessing fruit and vegetables

Many communities in the UK are unable to afford, or access, the food needed to make up a healthy diet. What we eat (and how we eat) affects not just our health, but the local economy, social cohesion and the wider physical environment. Despite national healthy eating information campaigns (eg 5-a-day), and support for families on low incomes (Healthy Start), the UK diet fails to meet government recommendations. Just 20 per cent of the UK population eat the recommended 5 daily portions of fresh fruit and vegetables.

Although the majority of the UK population understand the importance of fresh fruit and veg for health, many lack the means to ensure that their diets include sufficient fresh fruit and veg. There are multiple causes as to why this is the case (poverty, lack of access, knowledge, food deserts, and heavy and pervasive 'cradle to grave' advertising for unhealthy food products).

There is evidence from the Healthy Start programme that vouchers for individual pregnant women and young children in receipt of income support are effective in increasing fruit and veg uptake (McFadden, 2014) but uptake of Healthy Start continues to decline.

Researchers at the Institute for Sustainable food developed and feasibility tested a place-based cash transfer scheme. The FRESH St scheme offered local supplier-specific vouchers for fresh fruit and veg to all households in geographically defined communities in areas of high deprivation. The study aimed to provide new information on a place-based or household level cash transfer based approach to improving diet and health and the wider environment.

In the Fresh Street Project, people said the vouchers enabled them to risk trying new foods such as parsnips. Parents talked about providing fruit for their children as snacks rather than crisps and biscuits.

Other researchers have investigated food clubs and pantries that illustrate how surplus food can enable more diverse diets in low-income communities. Surplus food often arises at random and can contain foods that would not normally be accessed in some places. For example, more expensive food brands, or as one pantry operator listed, "olives, eels, and fish with heads on" are not foods typically found in low-income areas.  To help introduce these foods and make them more acceptable, pantries are now offering cook and eat sessions so that people can try the "strange foods" and learn to cook them.

It is clear that if we are to address environmental and foodscape issues, we also need to make it possible for everyone to engage with the changes that will be required, which is what these initiatives and others are attempting to do.  While these actions are important, they remain locally based. We need greater national support to help scale them up - and the National Food Strategy gives us the chance to do this.