Sheffield food business's coronavirus response and resilience
Dr Megan Blake speaks to food organisations in Sheffield who have found new ways of working during the crisis.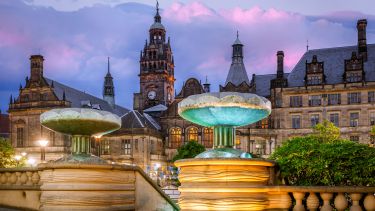 Climate crisis, ecological breakdown, a growing population, Brexit - and now Coronavirus. Our food system is under serious pressure. 
In the UK and in Sheffield the coronavirus lockdown has been in place since 23 March. During this time, food organisations both large and small have had to completely change the way they operate. From introducing physical distancing measures to facing a summer of cancelled events and income, Sheffield's food producers have stepped up to the challenge with creativity and resilience.
In this new series, Dr Megan Blake speaks to food organisations in Sheffield that have found new ways of working during the crisis. From food producers to social enterprises, we find out how coronavirus has affected them and how they have found their new normal.
---
Overnight at the start of lockdown Our Cow Molly saw a complete stop in demand for their milk from the hospitality sector whilst the demand from individuals and the retail sector skyrocketed. Find out how Our Cow Molly were able to switch outlet channels for their milk so quickly, how they used a new business model to get food out across Sheffield and how their short and local supply chain gave them the resilience they needed.
There's a bonus section on the history of Our Cow Molly and a life cycle analysis of plastic vs glass milk bottles too.
Dr Megan Blake from the Institute for Sustainable Food and the Geography department speaks to Ed Andrews from Our Cow Molly, a dairy farm in Sheffield.
---
Food Works is a Sheffield based social enterprise founded in 2015. The organisation began as a food waste awareness campaign before evolving to run pay-as-you-feel cafes, catering, schools programmes, a market, box scheme and more recently a food growing operation. Food Works uses surplus or wasted food and either recycles, upcycles or redistributes this food to others in the city.
Dr Megan Blake spoke to Rene Meijer from Food Works to find out how panic buying has affected food waste and how Food Works are now cooking meals for the community despite their kitchens being closed.
---
Regather is a community benefit society founded in 2010. Operating out of a former cutlery works in Sharrow, Regather runs a veg box scheme, food hub, brewery, event venue, catering, festivals, cider making and, more recently, has set up a community farm in the Moss Valley.
Dr Megan Blake spoke to Gareth Roberts from Regather to find out what life has been like for the Regather team since the outbreak.
Flagship institutes
The University's four flagship institutes bring together our key strengths to tackle global issues, turning interdisciplinary and translational research into real-world solutions.