Professor Glynis Jones
BSc, MPhil, PhD
Department of Archaeology
Professor of Archaeology
Course Director- MSc Environmental Archaeology and Palaeoeconomy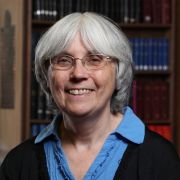 Profile

After graduating with a degree in zoology from Cardiff, I worked as a science teacher in the UK and Greece for some years before joining the British School at Athens as a research assistant in archaeological materials science at the Fitch Laboratory.

I returned to Britain in 1978 to undertake an MPhil, followed by a PhD, in Archaeology, at the University of Cambridge.

I then worked as an environmental archaeologist at the Department of Urban Archaeology, Museum of London, a post I left to take up my current position at the University of Sheffield in 1984.
Qualifications

PhD in Archaeology, Cambridge University
MPhil in Archaeology, Cambridge University
Certificate in Education, Cardiff University
BSc Honours in Zoology, Cardiff University
Research interests

The origins and spread of agriculture
The investigation of crop domestication and spread through DNA analysis
Ecological approaches to crop domestication
The use of weed ecology in the identification of crop husbandry practices
Stable isotopes as a method for identifying the intensity of crop cultivation practices
Dating the spread of crops through Europe
The role of crop cultivation in the Neolithic to Iron Age in Britain/Europe
Ethnoarchaeological approaches to the investigation of early farming

---

Current research projects

Life in a cold climate: the adaptation of cereals to new environments (ERC project) with Prof. T. Brown, Dr. H. Jones and Dr. P. Pearman.
Evolutionary origins of agriculture (ERC project) with Dr. C. Osborne, Prof. T.A. Brown (Manchester), Dr. M. Charles, Prof. M. Rees, Dr. N. Fieller and Dr. E. Stillman.
Origin of agriculture: an ecological perspective on crop domestication (NERC project) with Dr. M. Charles, Prof. C. Osborne and Prof. M. Rees.
Agricultural Origins of Urban Civilisation (ERC project) with Dr. A. Bogaard and Dr. J Hodgson.
Crop stable isotope ratios: new approaches to palaeodietary and agricultural reconstruction (NERC project) with Dr. A Bogaard (Oxford), Dr. T. Heaton (NIGL), Prof. R. Evershed (Bristol) and Dr. M. Charles.
Identifying ancient land use through the functional ecology of crop weeds (NERC project) with Dr. M. Charles and Dr. J. Hodgson.
Publications

Books

Journal articles

Chapters

Conference proceedings papers
Research group

Current Research Students

Victoria Knowles- "The Marketisation of Agriculture: The archaeobotanical evidence for the development of a market economy for arable agricultural and horticultural products in Britain and Central Europe during the Roman and medieval period"
Victoria Newson- "The Interaction Between Olive Oil and Wine Production Sites in the Southern Levant: a Detailed Computational, Climatological and Trade Based Analysis"
Gemma Warham- "Functional attributes as a tool for understanding the process of cereal and pulse domestication"
Teaching activities

Postgraduate
Professional activities

Member of the REF 2014 sub-panel for Geography, Environmental Studies and Archaeology.
Member of the ERC starting grant 2013 evaluation panel.
Member of the NERC Peer Review College.
Member of the Association for Environmental Archaeology.
Member of the British School at Athens Laboratory sub-committee.
Member of the editorial board of Journal of Archaeological Science.
British representative on the steering panel for the International Work Group for Palaeoethnobotany (IWGP).
Fellow of the British Academy

Conferences

Conference of the International Workgroup for Palaeoethnobotany (IWGP). Thessaloniki, June 2013.