In conversation with Professor Kathryn Ayscough
In conversation, to celebrate International Women's Day, Dr Zoe Hewitt and Professor Kathryn Ayscough explore Kathryn's successes and the challenges she has faced throughout her career and her thoughts on gender equality progress.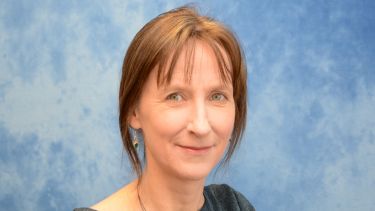 Off
After joining the University of Sheffield in 2003, as a senior MRC Research Fellow in the Department of Molecular Biology and Biotechnology (now the School of Biosciences), Professor Ayscough has navigated a successful career, becoming a professor in 2008 and then in 2016, the first female Head of Department for Biomedical Science (BMS, now the School of Biosciences). This International Women's Day, we reflect back on her four and a half years in post and her achievements over this period particularly around gender equality, as she handed over the reins in March 2021 to Professor Andrew Furley.
In conversation, Kathryn and I explored her successes and the challenges she has faced throughout her career and her thoughts on gender equality progress. I started by asking Kathryn, what she most enjoyed about being Head of BMS and what her ambition was when she took over the role.
Kathryn responded quickly, "seeing how much people stepped up time and again to support one another and our students especially during the pandemic," she said.  "Not my doing but it made me proud to be head of the department."
In terms of ambition, Kathryn recalled "I wanted to increase the transparency of processes and opportunities for all staff, to widen decision making beyond the professoriate (where it sat when I started) and also to look at the breadth of activities that people were doing when considering promotion rather than it focusing on research."
From personal experience, I have benefited from this ambition. The opportunity to become the departmental Director for ED&I allowed me to enter a world which, despite having been in the department for 12-years at the time, was truly alien to me. As a researcher and member of the professional services team, I had never previously been considered as part of a leadership team. The opportunity provided me with a platform on which to use my voice and I have to say, the insight has changed how I look at our department.
With this in mind, I was interested to hear what Kathryn felt was her biggest impact, in terms of gender equality but also more broadly and whether there was anything she wished she had been able to achieve during her time in post but hadn't quite managed.
Starting with the latter, Kathryn said "I would like to have found a way to develop and enhance the external profile of the department more. It did feel like a lot of crisis management rather than long term planning."
In terms of gender equality Kathryn recalled that "before there was a Faculty Director for ED&I, I was actively taking gender issues and ideas to the Faculty for consideration and I have continued to raise my concerns about the impact of different proposals on the breadth of staff in the department throughout my term. I hope this has made a difference." 
Advocates and allies are so important as we strive for equality, this is not to say that this falls to women or people from marginalised groups to have to shoulder this task. Highlighting excellence is everyone's responsibility, and everyone has the power to do it.  It could be that this is by suggesting that a colleague from an under-represented group is put forward for a key training programme or promotion or that you call out someone's inappropriate language. It could be a formal or informal mentoring relationship, or simply telling someone that you believe in them, that they really can do it and offering to be a "personal statement buddy"; you big them up while they big you up!
When we spoke more broadly about Kathryn's achievements and her influence there were many, but she settled on the Biologies Teaching Partnership (BTP) which she has been instrumental in developing. She responded "I do think the BTP will give our undergraduate students a great core programme whilst also giving them the ability to access a greater breadth of our biology teaching." She also went on to say that "the benefits to staff within the departments is also significant as we try to find ways to make work loads more manageable, something else I have been actively trying to influence."
I asked Kathryn whether she thought celebrating International Women's Day is helpful. 
Immediately she responded "Yes, celebrating and increasing the visibility of contributions from women is important and International Women's day can help showcase this." Why? "Because most of us still experience a world where the advances made by men are with us every day. You often have to look further to find the contributions of women. We should use the day to educate our children to see the contributions of women in our society because they don't get this from schools or the curriculum. I also feel that secondary schools could contribute to gender equality by not elevating men to "Sir" and demoting women to "Miss", I fail to see why this hasn't been addressed", she said.
I have to say that I do agree with Kathryn, and I feel men could play a much greater role, as advocates for women. I once asked a boss of mine, a successful clinician, research leader, lecturer, public engagement speaker, mentor, parent and generally supportive individual, "how do you do it all?" Their response to me was "I have an incredible wife". It would be nice to hear men acknowledge the support they have had in achieving their career successes, and to ask themselves whether they would have achieved "success" without it? When I look around the room at IWD events (albeit virtually this year), the vast majority of support (though not all) is women for women. 
Our conversation then turned to reflecting on barriers that women face as their careers progress and I asked Kathryn whether she felt that she had personally faced any barriers in her career as a result of being a woman.
"Looking back and reflecting" Kathryn said, "there have been lots of things that I think have made things harder for me trying to make headway as a woman, but nothing you would call a barrier. For example:
When I started as a postdoc I had a referee write that I might "one day manage to supervise a small group but unlikely anything too big". I was also told that getting married would be the "end of me having an independent career". 
I had difficulties sorting out maternity leave and pay. There was not so much support for women academic staff even 20 years ago. 
Having been awarded a number of Fellowships I asked if I could be more pro-active in research strategy decisions in my department – I was told that there needed to be an ED&I representative on a committee and maybe that would be suitable. 
For many years after having my own lab group I felt that I didn't fit and that many other staff in the department seemed to think I was a post-doc. Because I had a fellowship (albeit at grade 9 level) HR insisted that I was on postdoc email lists. I never managed to stop that until I was no longer a fellow.
When I had younger children, I found going away to conferences difficult, this does have a negative impact on building track record and being heard in the right spaces. There is a significant amount of mental load considering and reconsidering which opportunities you should accept, so as to maintain opportunities and then agonising and beating yourself up if the ones you eventually do choose do not end up being so fruitful. Perhaps this might be an area where live-streaming as a result of COVID can be used to increase opportunities and diversity of speakers and level things up for women."
Recently, I have started to see the challenges that women face as feathers, many many feathers, there is not one barrier or act that you can easily put your finger on that says "yes, that's the one holding me back, if we could just solve that things would be easier". But at the end of the day a tonne of feathers is still a tonne and it makes progress heavy going.  I asked Kathryn, how she overcame these barriers? 
She said, "I'm not sure I overcame barriers. For me, the things that made a difference were – having role models at different career stages, this made a really big difference especially early on. Also I was put forward, by a previous PVC (VP), for the Sheffield Leader 4 programme and it was in this space that I realised that in fact I was at least as capable as any of the men who were there. This gave me confidence to stand as Head of Department in BMS when the opportunity arose at the end of 2015." Kathryn went on to say that "I think there are initiatives in place that 'help' women such as ensuring women speakers are included at conferences or ensure that women are on short lists for jobs. There are some that oppose these but in fact I would now say that they are a small step towards ensuring that women are even seen, and that is critical."
After listening to Kathryn's experiences, I was surprised that, despite all of our efforts over many years, that yes some things have improved, but many things remained stubbornly the same.  I asked Kathryn, how she thought we could assist more women to pursue and obtain senior leadership roles in their career so that we can have role models for the future.
"I think that the Women's Professor network at Sheffield has helped support women at a more senior level to have confidence about pursuing further career goals. If we can encourage and support more women to take part in programmes to build confidence in their leadership skills, though not in a patronising way – 'you're a woman so you probably need help to be a leader…' and also to develop roles that allow women, and men, to gain experience and confidence before applying for larger roles eg lead Task and finish groups, or deputy roles that this would help."
With this in mind, I asked Kathryn what she felt was the most important message she'd like to send out to young women thinking about their careers?
"Maybe not to think things through too much," she said. "It is easy to find reasons to not do something but sometimes just taking a step that seems interesting will open a world of possibilities. Be led by what you like not by what other people think."
Thinking more about the future, I asked Kathryn what her hopes were for the gender equality agenda.
"That women and men are able to have truly equal access to opportunities and that accommodations can be made to enable the best person – regardless of gender – to succeed in a role.
I also hope that metrics that consider reaching Professorial level for example, are not the only way that we can measure success. In a world where work life balance is increasingly viewed as beneficial – people must be able to be considered successful at whatever stage they reach so long as they perform the requirements of the role well. I know quite a few women who have avoided an academic career because they felt they would be judged just because they might not want to keep pushing on to be a professor. It should be OK to be considered as successful at all stages. Universities (and much of our society) do not yet see people as successful unless they have reached the top. There does not seem to be a clear rationale as to why people can't be considered successful unless they are always pushing on and up. Referring to people who stay at one grade for most of their career as 'the flat middle' rarely considers contributions beyond hours teaching and research outputs/income raised but these other contributions are often what makes a department function well (or not)."
Finally as a bit of fun, I challenged Kathryn to list three inspirational women, dead or alive, to have to dinner, who would they be and why?
"Rosalind Franklin – she was driven by her interest in the science and in doing great work. It must have hurt seeing that her data was used to advance the understanding of DNA without having the appropriate credit.
Boudicca – I'd just like to know whether she thought she was unusual or whether there was more equality (we just haven't records of it) amongst leaders in the UK 2000 years ago.
Rosa Parks – she had the courage to stand up for the rights of other people in her own way and showed that there are different ways to fight for a cause."
Though she went on to say "it would also be interesting to invite Mary Wollstonecraft (would she be depressed by lack of progress?); Nicola Sturgeon (surviving social media vilification on a daily basis); Michelle Obama (on being a very successful person in her own right but still in a shadow)."
I'd like to end, by thanking Kathryn for giving up her time to talk to me in such an honest way, and for all her hard work over the last four and a half years, through strikes, pandemics and general life difficulties - I think she has steered our ship well and we wish her all the best.
A global reputation
Sheffield is a research university with a global reputation for excellence. We're a member of the Russell Group: one of the 24 leading UK universities for research and teaching.