First evidence of otters breeding in Peak District found by scientists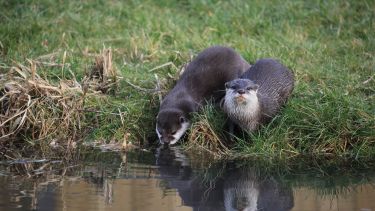 The study, led by Dr Deborah Dawson from the University of Sheffield's Department of Animal and Plant Sciences, has captured the first ever video footage of an otter and its cub on the banks of a river in the region.
Footage from the video shows the mum checking for signs of whether other otters have passed through the area. She is sniffing to search for spraints (droppings) left by other otters which would indicate their presence at that site. Her young cub can be seen copying her behaviour by sniffing the area too, before they slide back into the river side by side.
The video was captured by Dr Douglas Ross, a volunteer working with Dr Dawson and her team at the University of Sheffield, who are studying the otter population in the Peak District and South Yorkshire.
Last year Dr Ross captured the first ever video footage of wild otters in the Peak District. Prior to this, in a project in collaboration with the Sheffield and Rotherham Wildlife Trust, Dr Dawson's team has also used DNA analysis to reveal the number and sexes of otter individuals on the River Don surrounding Sheffield.
Dr Dawson said: "We are absolutely delighted to have captured the first evidence of wild otters breeding in the Peak District. Otter numbers crashed in the UK becoming locally extinct in much of England by the 1970s. Bans on pesticides, legal protection, improvements in water quality and targeted conservation efforts have led to the return of the otter to many counties. However, recovery has been slow, particularly in the North of England.
"This new footage shows that efforts to improve rivers, river bank habitats and repair connectivity along river systems are starting to work, however much more needs to be done. There are still lots of gaps in our knowledge of otters, and further research is required to understand the UK's wild otter population."
The University of Sheffield research team is using DNA extracted from otter spraints to study the connectivity and seasonality of otter movements and their diets in the region.
Findings from the study could help to make recommendations to improve habitat for otters and their prey and identify ways to improve connectivity, which could help the recovering otter population.
Sheffield-led scientists conducted the first ever DNA-based survey of otter numbers in the north of England to detect seven otters on the River Don last year, including at least two males.
Otters were detected in urban, suburban and rural locations across the South Yorkshire region, with a female being detected in a rural area north of Sheffield.
DNA analysis can reveal new insights into otter numbers, sexes and distribution along a river.
Flagship institutes
The University's four flagship institutes bring together our key strengths to tackle global issues, turning interdisciplinary and translational research into real-world solutions.