Inaugural Julia Garnham Prize in Clinical Genetics awarded to outstanding undergraduate student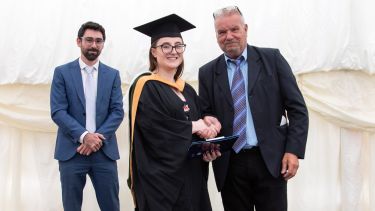 A Medical Genetics BSc student from the University of Sheffield has been awarded the inaugural Julia Garnham Prize in Clinical Genetics in recognition of their performance on an NHS work placement.
Chloe Tolley was presented with the £200 prize and departmental commemorative medal to mark her achievements during her graduation celebration on 20 July 2022. Chloe undertook her placement as part of her third year research project in clinical diagnostics.
Thanks to the skills and experience she gained during this time, Chloe has secured a place on the prestigious NHS Scientist Training Programme in Cancer Genomics at Addenbrooke's Hospital in Cambridge.
The prize was established this year to celebrate the official opening of the Julia Garnham Centre, a new genomic pre-screening facility based in the School of Biosciences, which helps NHS geneticists to diagnose blood cancers. The Centre was named after Julia to acknowledge her significant contributions to genomic healthcare in Sheffield and the wider region, over a career that spanned three decades. 
Funded by a generous donation from Len Garnham to further honour the legacy of his late wife Julia, the prize is designed to help to inspire Sheffield students with Julia's example long into the future. It will be awarded twice annually to one undergraduate and one postgraduate student for outstanding performance within the centre.
Each year the undergraduate winner is selected from all students who have studied their final year research project within the Julia Garnham Centre, or volunteered their free time to participate in work placements within the centre. The prize is awarded to the student with the best overall NHS work placement performance, assessed against analytical experience, analytical performance during the placement and conduct, including helping others, background reading and contributing to a warm community.
Dr Adam Hodgson, Director and Founder of the Julia Garnham Centre said, "Chloe is an outstanding student and thoroughly deserves this prize. Watching Len Garnham award the prize to Chloe was a really lovely moment, which I am sure will be fondly remembered for many years to come. I founded the Julia Garnham Centre to help inspire the next generation into clinical genetics, so I am delighted that Chloe has chosen to pursue a career in cancer genomics with the NHS.  I wish Chloe the very best of luck!"
The Julia Garnham Centre brings together clinical and academic genomic experts to provide students in the School of Biosciences with clinical genetics training and remote NHS work placements that enable students to contribute to the provision of molecular healthcare and improve patient outcomes.
Explore the University
Discover why Sheffield is the right choice for you at one of our open days or events.