£2.1m funding boost to help solve "long-standing evolutionary puzzles"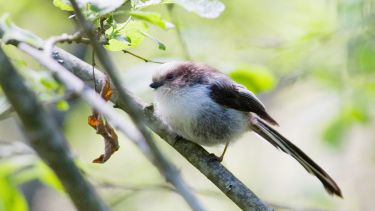 A Professor of Evolutionary Ecology has been awarded more than £2.1m for a new study which will shed light on how animals recognise desirable and undesirable social partners.
Professor Ben Hatchwell, from the School of Biosciences, will use the European Research Council (ERC) grant to research kin recognition in a social bird - the long-tailed tit.
The project will use machine learning and other approaches including mass spectrometry and social network analysis to investigate decisions made in two contexts:  inbreeding avoidance and cooperative behaviours. 
"We will determine the relative importance of social ties (familiarity) and other potential indicators of kinship (voice and smell), when making social decisions," said Professor Hatchwell.
"I am really thrilled to have this wonderful opportunity to spend the next five years working with a team of six researchers, bringing cutting-edge techniques to bear on long-standing evolutionary puzzles."
The grant has been awarded as part of ERC's 2021 Advanced Grants competition which is aimed at established research leaders, with a recognised track record of research achievements.
Professor Hatchwell is one of 253 leading researchers from across Europe to be awarded a share of £524m.

The research study entitled 'Constraints on adaptation in social animals: kin recognition mechanisms and the fitness consequences of discrimination rules' is expected to start in October.
Flagship institutes
The University's four flagship institutes bring together our key strengths to tackle global issues, turning interdisciplinary and translational research into real-world solutions.