School of Biosciences celebrates with Summer Symposium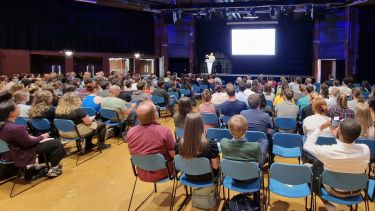 The celebration event was a chance to showcase the breadth and depth of research across the School, from fundamental biochemistry and cell biology, to evolution and ecosystem science, highlighting the impact our researchers are having on global problems such as sustainability, food security, climate change, healthy living, and finding cures for a range of human diseases.
The afternoon featured presentations from across the School's five research clusters and more than 80 posters were on display, showcasing the work of both staff and students. The event attracted over 300 registrations, driving an afternoon of enthusiastic discussion.
Following tremendous success in the REF 2021, the event was also a great way to get together in person to acknowledge the hard work of every member of the Biosciences community. 
The Symposium also featured the inaugural Jarema Malicki Biosciences Image Competition, endowed by Biosciences colleague Jarema's family in his memory. Open to post-docs, technicians, PhD and masters students, colleagues were encouraged to submit scientific images for their aesthetic appeal, as well as their ability to convey the science they're illustrating.
The winning image - selected by a judging panel of researchers, a local artist and a member of Jarema's family - depicts neurons of the enteric (gut) nervous system that have been derived from human pluripotent stem cells for the development of "organ-on-a-chip" technologies. The image and the culture are the work of Brittany Ellis, a technician in the Development, Regeneration and Neurophysiology research cluster of the School of Biosciences. Congratulations Brittany!
The day was a great success, receiving positive feedback from numerous attendees. It's hoped that the Summer Symposium will become an annual event.
Flagship institutes
The University's four flagship institutes bring together our key strengths to tackle global issues, turning interdisciplinary and translational research into real-world solutions.