Student teams pitch innovative business ideas for applying science in industry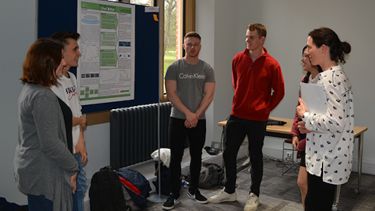 Working in small groups, the students have been developing their plans this semester for original business concepts that apply science in a commercial setting, analysing the market and competitors, creating plans for marketing, and even considering intellectual property implications, finance and future expansion, ready to pitch their ideas at the annual poster day event.
Ideas included using fungus to recycle car batteries, a pill that alleviates the symptoms of a hangover, using bacteria to recycle plastic, and creating a bioactive plaster that accelerates the healing process.
The winning poster, as chosen by the students was the idea of Lungpack1, a lightweight, portable lung device for patients with Cystic Fibrosis who are on the lung transplant list. The team, made up of students from the Departments of Chemistry and Molecular Biology and Biotechnology, suggested the product with the aim of relieving symptoms of the genetic disease, improving lung function and giving patients a better quality of life.
Dr Liz Alvey, Course Coordinator for Modules to Market said: "It's great to see the innovative ideas that our students come up with on this module and this fun annual poster event is always a highlight. By bringing together students from different disciplines, it not only allows them to put their new skills and knowledge from their degrees into practice, but also gain transferable skills in collaborating with others from different departments."
A global reputation
Sheffield is a research university with a global reputation for excellence. We're a member of the Russell Group: one of the 24 leading UK universities for research and teaching.