Undergraduate students investigate never-before studied glacier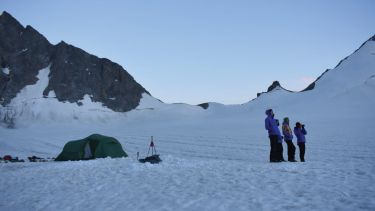 The group, which included BSc Biology student Tom, Environmental Science student, Louise, Medical student Calum, and expedition leaders, Geography students Alex and Sam, set off in the hope of providing valuable insights into the future effects of climate change in the region.
Glaciers in central Asia are some of the most threatened in the world so to conduct their research, the group chose one glacier which had the ideal characteristics - smooth, perfect sized and easier to climb.
Spending a month in the challenging environment, putting their skills from their undergraduate studies at Sheffield into practice in the field, the group hiked to the foot of the glacier each day to conduct their research.
---
Tom Drysdale, BSc Biology student and Ala Archa Expedition Research Assistant
Tom's role as Research Assistant on the project saw him hiking up the glacier daily for data collection. He shared his experiences with us on his return to Sheffield: "If someone had told me before university that I would take part in an expedition to remote Kyrgyzstan shortly after graduating, I probably would not have believed them. However, three years later, four friends and I set off towards our base camp carrying everything we needed for a month in the mountains.
"Our camp, situated at 3000m above sea level, was surrounded by mountains with a glacial river running alongside it. Every morning we hiked up a rocky slope to the foot of the glacier, where we split into two groups. One group remained on the moraine field, working out the ages of the rocks at different distances from the glacier, while the other group roped up and hiked to the top of the glacier, taking measurements for snow melt, snow density, wind speed and temperature along the way. Most days were spent collecting data but we used all of our free time to explore the area around base camp, climbing unclimbed rock faces, observing the local wildlife, swimming in a small lake below the glacier and once hiking up to 4000m for sunrise.
"It wasn't all plain sailing and we had our fair share of bad luck: some of our food was stolen by marmots, some went mouldy, our base camp tent nearly blew away in a storm, our stoves needed fixing almost daily, some of our chocolate went missing and we nearly ran out of jam. I also missed my graduation for the expedition, so we had an unofficial graduation ceremony at the top of the glacier. All this made for a unique experience and what started as a random idea for an unusual dissertation project ended up being a really successful expedition and a trip that none of us will ever forget."
A world top-100 university
We're a world top-100 university renowned for the excellence, impact and distinctiveness of our research-led learning and teaching.