Dr Anestis Tsakiridis
Lecturer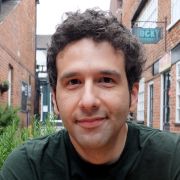 Profile

2020-present: Lecturer
2016-2019: Vice Chancellor's Fellow
2009-2015: Post-doctoral researcher, MRC Centre for Regenerative Medicine, University of Edinburgh (Advisor: Prof. Val Wilson)
2006-2009: Post-doctoral researcher, Institute for Stem Cell Research, University of Edinburgh (Advisor: Prof. Josh Brickman)
2002-2006: PhD, University of Edinburgh (Advisors: Prof. Lesley Forrester, Prof. Josh Brickman)
2001-2002: MSc (Res), University of Edinburgh
1998-2001: BSc (Hons), University of Edinburgh
Research interests

We aim to define the molecular basis of cell fate decisions during human embryonic development through the use of human pluripotent stem cells (hPSCs). We focus particularly on the in vitro modelling of the events guiding the "birth" of the spinal cord and trunk musculature from a common precursor population known as Neuromesodermal Progenitors (NMPs) during embryonic axis elongation.

We are also interested in another multipotent embryonic progenitor population known as the neural crest (NC). Depending on their position along the anteroposterior (A-P) axis, NC cells give rise to various specialised cell types, such as peripheral neurons, neuroendocrine cells and skeletal cells in the head. We have defined the culture conditions directing  the generation of  NMPs from hPSCs as well as their differentiation into either neural or mesodermal cells (Gouti, Tsakiridis et al., 2014 PloS Biology; Frith et al. 2018 eLife). We have also established efficient protocols for the in vitro production of human NC cells corresponding to most A-P levels and found a close link between NMPs and the precursors of trunk NC cells (Frith et al. 2018 eLife).

Using these in vitro systems we are trying to address the following questions:

How do embryonic cells proceed from pluripotency to NM bipotency?
What are the molecular determinants of NM bipotency and differentiation?
How is axial identity shaped and maintained in human embryonic cells?
How do "altered" embryonic multipotent states drive tumourigenesis

Our ultimate goal is to exploit the knowledge from addressing the above questions in order to achieve the precise and efficient engineering of NMP- and NC-derived cell types for regenerative medicine and disease-modelling applications.
Publications
Research group

We welcome speculative applications. Please email your CV and research interests to: a.tsakiridis@sheffield.ac.uk
Grants

Biotechnology and Biological Sciences Research Council (BBSRC)
The Royal Society
Children's Cancer and Leukaemia Group/Little Princess Trust
MRC Discovery Medicine North Doctoral Training Partnership
EU Horizon2020
Neuroblastoma UK
BBSRC White Rose Mechanistic Biology DTP
Medical Research Council
Teaching activities

Undergraduate:

BMS110  Research Topics in Biomedicine
BMS247 Biology of Stem Cells, Ageing and Cancer (Co-ordinator)
BMS336 Modelling Human Disease
BMS382: Stem Cell Biology
Level 3 Practical and Dissertation Modules

Masters (MSc):

BMS6336  Modelling Human Disease and Dysfunction
Professional activities

Member of the British Society for Developmental Biology (BSDB), International Society for Stem Cell Research (ISSCR), British Society for Gene and Cell Therapy (BSGCT), Anatomical Society.