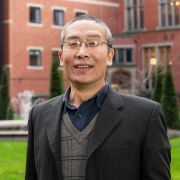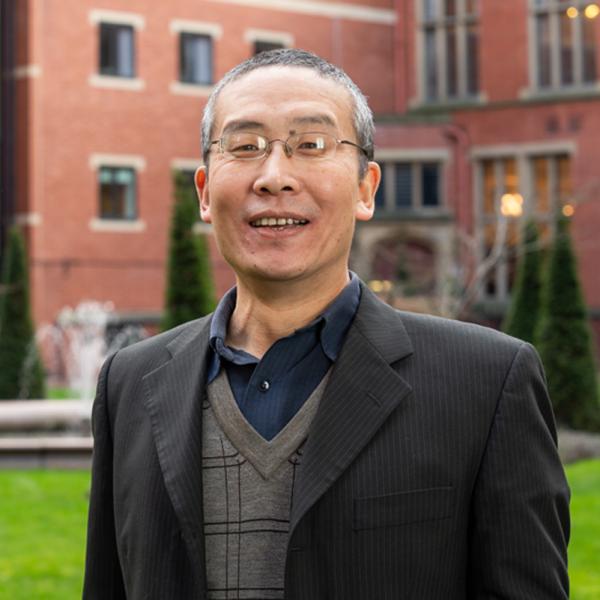 Profile

Brief career history

2015–Present: Lecturer, School of Biosciences, University of Sheffield
2013–2015: Research Fellow, School of Biochemistry, University of Bristol
2009–2013: Senior Research Associate, School of Biochemistry, University of Bristol
2002–2009: Research Associate, Faculty of Life Sciences, University of Manchester
1999–2002: PhD, Leicester School of Pharmacy, De Montfort University, U.K.
1996–1999: Lecturer, Department of Human Anatomy, Medical College of Soochow University, China.
1991–1996: Teaching Assistant, Department of Human Anatomy, Medical College of Soochow University, China.
1986–1991: MBBS, Medical College of Soochow University, China
Research interests

Protein SUMOylation and deSUMOylation in Health and Disease
My research interests are to understand the basic cell biology and signaling pathways associated with protein post-translational modifications (PTMs) in cell death, survival, and repair following stress, and to translate the findings into animal models of human diseases and into treatments for human disease.
One type of PTM is SUMOylation, which involves the attachment of a small protein called Small Ubiquitin-related Modifier (SUMO) to target proteins.
SUMOylation is essential for the survival of all plant and animal cells because it regulates protein-protein interactions, either promoting or hindering specific interactions according to the molecular environment.
Thus the functional consequences of SUMO attachment vary greatly depending on the substrate and the cell type, and in most cases remain only poorly understood.
SUMOylation can be reversed by the action of SUMO proteases to cleave the bond between proteins. This is called deSUMOylation.
The largest and most characterised family of SUMO proteases is that of the sentrin-specific proteases (SENPs). Specific targets and physiological roles for SENPs are largely unknown.
In my laboratory, a combination of techniques including molecular cell biology, biochemistry, genetics, pharmacology, and histology is used to address the roles of protein SUMOylation and deSUMOylation in health and disease, particularly in ischemia and age-related diseases such as neurodegeneration and cancer.
The results may lead to better understanding of disease processes, more effective therapies, an enhancement to the quality of life of both patients and their carers, and finally, an easing of the substantial economic burden that ischemia and age-related diseases currently impose.


Publications

Show: Featured publications All publications

Featured publications

Journal articles

Conference proceedings papers

Preprints

All publications

Journal articles

Conference proceedings papers

Preprints
Research group

PhD projects

Investigating the Roles for deSUMOylation Enzyme SENP3 in Autophagy Impaired by α-synuclein

         (https://www.findaphd.com/phds/project/investigating-the-roles-for-desumoylation-enzyme-senp3-in-autophagy-impaired-by-synuclein/?p141402)

Uncovering novel molecular targets for cancer chemoprevention in oral squamous cell carcinoma

         (https://www.findaphd.com/phds/project/uncovering-novel-molecular-targets-for-cancer-chemoprevention-in-oral-squamous-cell-carcinoma/?p149192)
Teaching activities

BioMed Undergraduate Tutorials
BioMed Undergraduate Final Year Project Supervision (Molecular and Cell biology)
Postgraduate Research Project Supervision (Molecular and Cell biology)
Undergraduate and Postgraduate Human Neuroanatomy (Core-Teaching)
Professional activities and memberships

Member of the Anatomical Society (2016)
Fellow of the Higher Education Academy (2018)
Member of the British Society for Cell Biology (2019)
Peer reviewer for scientific journals including EMBO Journal, Nature Communications, Autophagy, The FASEB Journal, iScience, Seminars in Cell and Developmental Biology, Journal of Molecular Medicine, Biochemical Journal and Scientific Reports
Peer reviewer for grant-awarding bodies including BBSRC, British Heart Foundation, Royal Society and BRACE – Alzheimer's Research