Coming to Sheffield is one of the best decisions I made!

Barbara Ojei Agwaziam
Now: working in the Department for Health and Social Care in Adult Social Care
MBiolSci Biology with a Year Abroad
Barbara has worked for the Civil Service since graduating in 2017. Whilst her roles haven't been directly linked to Biology, the transferable skills that she gained during her degree have proven really useful, helping her to get to the heart of issues, coming up with innovative solutions, and presenting them clearly.
What did you enjoy most about studying at Sheffield?
The best thing about Sheffield was the amazing people I met, learning from experts in my field and the great experiences I had from studying abroad as well as being a part of some fantastic societies. 
What are you doing now and how did you get into that role?
I am currently working in the Department for Health and Social Care in Adult Social Care. I have also had a range of roles across government from: working in Trade Policy in the Department for Trade; to working in Research and Development in the Department for Business, Energy and Industrial Strategy; Head of Incident Management in Test and Trace and as Private Secretary of the Chief Medical Officer. I've also done a secondment outside government working in the Health Innovation Network as a Project Manager. It's been a very varied job to say the least!  
My journey into the Civil Service began thanks to one of my University flatmates who had done the Summer Diversity Internship with the Civil Service. She was talking to me about her experiences and it sounded like something I would enjoy doing. Then a few days later people working in the civil service were in the Student's Union talking to students and I got to chat to them a bit more about what it was like working in government and the sort of things that you can expect to do. This led me to apply to the Civil Service Fast Stream. 
How have your studies helped you in your career?
Whilst I didn't end up in a role directly linked to Biology, I would say that the transferable skills that I learned in my degree really helped me across the range of roles I have had. Specifically, knowing how to get to the heart of an issue, coming up with innovative solutions to the said issue and presenting these clearly to others. These are skills I was able to develop through the many essays and presentations!
What scientific skills did you develop during your time at Sheffield? 
I would say that the key scientific skills I developed are: my problem-solving, analytical skills and working collaboratively through group projects and lab work. 
What do you miss most about Sheffield? 
The people but I am glad to say that I still stay in touch with many of the friends I made at Sheffield and they have become lifelong friends. So I guess I would have to say Varsity. It's such a great time to be in Sheffield, it electrifies the city and as a sports player nothing beats playing in a Varsity match. 
What would you say to a prospective student considering studying Biology at Sheffield? 
Do it! It's going to be one of the best decisions you will make, the quality of teaching and the breadth of areas studied is really good. You will be learning from experts in their area and you will get the flexibility to shape your degree to make it the best experience for you. I studied abroad in the US for a year and all these years later I am still talking about how much I loved it and how it exposed me to a different style of learning.
I also like how supported I felt in adjusting to the change from A-Levels to university with workshops and sessions at the 301 Academic Skill Centre which provides opportunities to develop your academic study skills and being able to access writers in residence. 
The fact that Sheffield is a city-based campus also meant that you would always end up bumping into people wherever you went which often led to having impromptu adventures. It's also great being in such a green city with the Peak District just a bus ride away and lots of parks to enjoy the sunshine in the summer. 
There is also an expansive range of extracurricular activities for you to get involved in. I was part of the Women's Basketball team throughout my time at university, I also had short lived stints in Netball and Rugby. And during my last year, I also decided to learn to code in my spare time and I did a CodeGirls course. I also wanted to learn Italian so I did a beginner's Italian module. The societies and opportunities you have access to ensures that you do more than just study and that you develop as a whole person.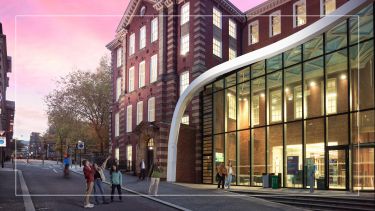 Visit us
Discover what sets Sheffield apart at our undergraduate open days on the Saturday 21 October or Saturday 18 November.