Being around so many other international students has made this experience so much easier and enjoyable

Dagmara Szmaglinska
My experience as an international student
BSc Biomedical Science
Dagmara was drawn to Sheffield because of how welcoming the city felt. After three years studying Biomedical Science, Dagmara has chosen to stay and continue her scientific learning to masters level.
What made you want to study your course?
I decided to study Biomedical Science as I have always been interested in human physiology in health and disease and it always fascinated me how bacteria or viruses which we can't see by eye can wreak such havoc on the body. The course was promoted as research-based, as the academic lecturers are researchers and therefore experts in their field at the same time. As I was thinking of a research career this was a huge advantage of this course. I was also looking forward to the variety of modules it offered, which would allow me to find topics that interest me the most but at the same time give me the basic knowledge needed for further study.
What made you decide to study at the University of Sheffield?
The rankings definitely caught my attention, with Biomedical Science itself high in the UK rankings. Apart from that, I fell in love with Sheffield city, its greenery and lovely people who make you feel welcome. In addition, the fact that the Dance Society at the University of Sheffield is so well-established and the quality of training is so high appealed to me too because it sounded like a perfect way to continue my dance hobby.
What have you enjoyed most about your course so far?
I have always enjoyed the practical side of the course the most. From first year practicals, where I was introduced to basic laboratory techniques, to last year's laboratory dissertation project, which was very exciting as I had to come up with an experimental approach and appropriate lab techniques to answer a valid scientific question - 'does extracellular matrix stiffness influence cancer progression'. When it comes to the lecture content, the third year was my favourite as I learnt more about cancer therapies, stem cells with their use in regenerative medicine and epigenetics which study processes that can alter gene expression without changing the actual DNA sequence. Having the opportunity to study so many different topics has allowed me to choose my interests and therefore aid my career choices.
What skills have you developed during your course?
The degree has allowed me to work on many different transferable and laboratory skills which definitely aided my personal development. Group projects, including a group presentation on chronic disease, have boosted my confidence in presentation and public speaking, but have also developed my teamwork skills. Apart from that, I have broadened many academic skills such as time management, academic writing, and critical thinking while preparing for assignments. During my Bioinformatics module, I have learnt R language and explored data analysis to perform RNA sequencing analysis. In the lab, I have learned many techniques from cell culture, western blotting to using a confocal microscope but also being detail-oriented and accurate which is one of the most important skills when doing research.
What would you say to a student thinking about studying your course at Sheffield?
I would say 'go for it'. If you want to discover different aspects of science from human physiology to genetics and microbiology, then that course is definitely for you. Even if some course content won't suit you that well, then at least you will know which areas of biomedical science you like the most. The practical side of the course gives you a lot of experience and prepares you for the research projects that you could undertake later on during your MSc or PhD degrees. Obviously, I couldn't forget about the people! Everyone in Sheffield is welcoming and being around so many other international students has made this experience so much easier and enjoyable.
What are you planning to do after your degree?
I'm proud to have received a Sheffield Postgraduate Scholarship which will allow me to continue my academic journey at the University of Sheffield as a MSc in Advanced Cell and Gene Therapies student. This masters degree, I believe, will help me to become a better scientist in the future by broadening my knowledge of how to efficiently drive innovations that can reach patients in need more quickly, from an academic and industry standpoint.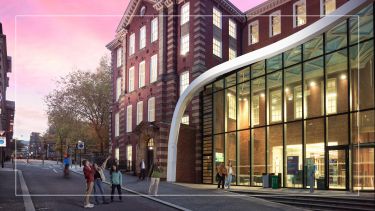 Visit us
Discover what sets Sheffield apart at our undergraduate open days on the Saturday 21 October or Saturday 18 November.