I spent my year abroad studying in Miami, USA

Hannah Setter
Year abroad: Florida International University, USA
BSc Biomedical Science with a Year Abroad
Hannah chose to spend a year studying abroad at Florida International University in the USA as part of her biomedical science course. Hannah wanted to get the typical 'American college experience' and has spent her year immersed in college life.
What made you decide to study biomedical science at Sheffield?
I chose Biomedical Science in Sheffield because I was really excited at the flexibility of the modules available. The research-led teaching also means you are learning about very current issues and problems within the world of biomedicine; something I find particularly interesting.
What have you enjoyed most about the course? 
In my second year I was given the opportunity to take Human Anatomy where we worked with cadavers. This is something very unique and only offered at limited universities. I am very grateful for the experience and the incredible learning opportunity this provided. 
What made you decide to go to the USA for your year abroad?
I chose the USA and specifically Miami because I wanted to experience the typical 'American college experience', I have not been disappointed and have truly been immersed in college life. Also, the pandemic did factor into where I applied but I am so happy I ended up in the USA at Florida International University. 
What have been your highlights so far?
Everything! Studying abroad allows you to travel so much. I have been to 8 states including Illinois (Chicago), Washington DC and California. I have also been fortunate to travel to Mexico and Puerto Rico during my spring break. I am placed at Florida International University which has enabled me to make friends with people from all across the world.
What topics have you studied whilst abroad?
Studying abroad has allowed me to take a wide range of courses that I don't necessarily have the opportunity to do in Sheffield. For example, I have studied Public Health, Exercise Physiology, Argument and Debate, and Microbiology. 
What sort of things did you do outside of your studies?
A lot of travel as flights between states can be really affordable. I will see friends and explore Miami (e.g go to the beach)! I also enjoy the experiences on campus such as the football matches and taking a study break at the pool (something I will certainly miss upon my return to Sheffield).
How do you think this experience will help you in the future?
I have already found this experience has benefited me in a range of ways. On an individual note, I feel I have developed personally in confidence. In addition, it's been a real advantage during my internship applications this year. There appears to be a high demand to hire students with unique experiences such as studying abroad. 
Where did you complete your summer internship and what were your responsibilities?
Upon returning from my year abroad, I completed an 8 week summer finance internship with NatWest (based in the London office). Coming from a science background, I was really keen to transfer my skills and knowledge from my degree so far into the financial world. I was placed within Stress Testing (my team assesses how banks can cope with severe economic scenarios) and during my time, I was given a lot of responsibilities within my team. For my first project, I completed a peer analysis where I compared NatWest to other UK and European Banks. This required me to collect and analyse data before I presented my findings back to my team. I was also given a business project presentation alongside other finance interns where we looked at how the bank is currently addressing problems associated with climate change. I found the two months extremely insightful and it taught me how versatile my degree can be. 
What would you say to a prospective student considering studying biomedical science at Sheffield?
I couldn't recommend studying Biomedical Sciences at Sheffield enough. The teaching I have received so far is brilliant. The department as a whole is excellent at communicating what is expected and this was truly reflected during online learning and the pandemic. Sheffield as a university and a city is really exciting. I've felt very welcome and enjoy a range of the experiences on offer.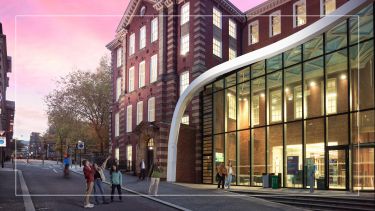 Visit us
Discover what sets Sheffield apart at our undergraduate open days on the Saturday 21 October or Saturday 18 November.