I'm now a PhD student at the Institute of Cancer Research

Julie Zhou
Now: PhD student, the Institute of Cancer Research (ICR)
BSc Biomedical Science with a Year in Industry
As Julie progressed through her biomedical science degree, she gained a strong foundation in cancer biology. This was a big advantage when she applied for an ICR fully-funded PhD studentship.
What did you enjoy most about your degree? 
While undertaking a BSc Biomedical Science with a Year in Industry at the University of Sheffield, I greatly appreciated being exposed to various disciplines within the field through the extensive range of course modules available. Ranging from neuroscience, physiology and pharmacology to stem cells and cancer, the department ensured that course content reflected topical scientific developments while including seminal advances. Learning in depth about different biomedical science subject areas through lab practicals, cadaveric dissections and lectures led me to find what really piqued my interest - cancer biology! 
What are you doing now? 
I am currently a second-year PhD student at The Institute of Cancer Research (ICR), within the Target Biology and Genomic Instability Team led by Dr Olivia Rossanese. My PhD project is focused on functional profiling of mutations in ATM, a key regulator of the DNA damage response (DDR), to determine their impact on DDR signalling in cancer cells. Furthermore, I am exploring whether cancers harbouring ATM mutations can be selectively targeted by cancer therapeutics via synthetic lethal interaction. Working at a world-leading research institute (in a newly built research building) with colleagues involved in all aspects of cancer drug discovery is very inspiring. 
How has your degree helped you secure your PhD? 
During my final year, I specialised in stem cells and cancer biology. Studying the hallmarks of cancer, the set of functional capabilities normal, healthy human cells acquire en route to becoming malignant tumours, was fascinating. Having a robust foundation in cancer biology was advantageous when I applied for an ICR fully funded PhD studentship. Besides this, I conducted a laboratory research project on cellular DNA damage and senescence responses during typhoid toxin infection within Daniel Humphreys' lab. The lab research experience strengthened my desire to explore the molecular mechanisms of DNA damage and repair. Hence, my background was highly relevant to my PhD project where I would be able to further investigate DNA damage response signalling in the context of cancer development and treatment. 
What scientific skills did you develop during your course? 
A Year in Industry at GSK as a Cell Biologist in the Target and Pathway Validation Department was an extremely valuable experience. I evaluated in vitro disease models, and developed the capability of a single-cell RNA sequencing platform. The opportunity to build upon my cellular and molecular laboratory skills, such as via immuno and cytochemical assays, and access cutting-edge facilities was fantastic. I gained awareness of how pre-clinical research, from biology to chemistry and bioinformatics, fits within the drug development pipeline. Doing a final year laboratory research project enhanced my lab skills as well as my skills in experimental design, data and statistical analysis. I became familiar with handling scientific literature through reading and analysing scientific papers.
What transferable skills did you develop during your course? 
During the Biomedical Science undergraduate course, I was able to cultivate many transferable skills. Writing scientific reports and delivering presentations to peers and academic staff allowed me to develop my communication skills. An important skill acquired through evaluation of research papers was critical thinking and analysis. By completing both individual and group research projects, I strengthened my ability to work both independently and as part of a team. Organisational and time management skills were vital to meet deadlines for lab reports, essays and other coursework. As a recipient of a Global Scholarship, I was fortunate to attend a summer school at the Hong Kong University of Science and Technology where I was able to increase my cultural awareness. 
What do you miss most about Sheffield? 
Sheffield was a beautiful and vibrant city to live and study in! I will miss having many a lunch or dinner with friends at the quirky, independent eateries at Division Street, Cutlery Works, Kommune and Peddler Market. Getting inevitably too full from a COSMO pan-Asian buffet was also a fun time! It was lovely to be surrounded by the greenery of Weston Park, Crookes Valley and Ponderosa Parks - a great running route… In contrast to scenic visits to the Peak District, I also enjoyed Sheffield's bustling city centre and lively nightlife. Above all, the friendly and diverse student community in Sheffield made studying in this city a time I will miss. 
What would you say to a prospective student considering studying Biomedical Science at Sheffield? 
The quality and style of teaching that you will receive is a major factor when choosing a university for undergraduate study. As a Russell Group university and one of the top UK universities for biological sciences, the University of Sheffield is a great place to consider for studying Biomedical Science. The academic staff and personal tutors were very supportive throughout my degree. There are a host of opportunities to get involved in during the course, from mentoring schemes and Peer Assisted Study Sessions to Year in Industry and research experience placements. The award-winning Student's Union at Sheffield boasts a range of eateries, has its own cinema (with student ticket rates!) and is home to a multitude of clubs and societies. Who'd have guessed that I would be a Co-Founder of the University's Ice Skating Society?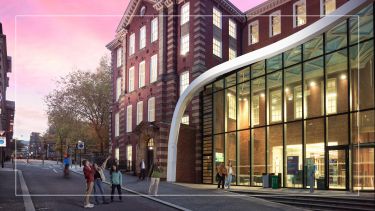 Visit us
Discover what sets Sheffield apart at our undergraduate open days on the Saturday 21 October or Saturday 18 November.