I've achieved so much more than I expected to during my placement

Lucinda Wellman-Smith
Placement organisation: Reckitt
BSc Biochemistry with a Year in Industry
Lucinda is spending her placement year working for consumer goods company, Reckitt within Global Regulatory Affairs. Lucinda has loved how many opportunities there have been within her role and has been surprised by how much she's been able to achieve in such a short space of time.
What made you decide to study biochemistry at Sheffield?
I loved the campus when I had a look on open day, the wide variety of modules available cemented my decision as well as the extensive support available to help with getting a year in industry.
What are you enjoying the most about the course?
Even during Covid, we were able to get into labs and complete lab work. During this time, it was really beneficial to be able to leave the house and get into the labs and be surrounded by other people. I also really enjoyed the Molecules to Market module which integrates biochemistry with industry and business.
What skills have you developed during your course?
The main skills are time management, efficient revising, and perseverance. Living on your own for the first time teaches you a lot about how to manage your own time. The content of the course is quite heavy so learning good revision techniques is essential and perseverance is needed for when you do not understand a concept initially. 
Where are you on placement and what was your role?
I work for a consumer goods company called Reckitt, it is based in Hull. Reckitt own many companies and I work specifically for Durex. I work in Global Regulatory Affairs for the lubricant portfolio, this means I regulate the products on global markets, whether a product needs renewing or changing classification for example.
What sort of things are you doing on your placement?
I work closely with renewals, ensuring products on markets can continue their license. This means I have to provide documents to local markets for their submission. Similarly, I have been working on changing classification of products for local markets which also includes providing documents to local markets. I also work on multiple projects, one I have recently finished involved changing packaging for a well-known Durex product, and I have seen this through to product launch!
What skills have you learnt from your placement?
My confidence in being immersed in a work environment has improved immeasurably; I can now confidently speak with stakeholders, raise questions and queries, and complete my tasks and workload competently. I have specifically asked to improve my presentation skills, I have now given multiple presentations, something I now feel positive about doing again in my final year at university.
What have you enjoy most about the placement year?
I have received a lot of gratification from the launch of my product, and now seeing it in stores. I love how much opportunity is within a placement and what I have achieved is something I would not have expected from myself. Reckitt take on about 25 placement students so there is a lovely community between us all and we love to organise events in and out of work.
How do you think the placement year will help your career?
I believe the skills I have learned from a placement year is irreplaceable. Having this experience under my belt shows employees I am comfortable in a working environment and already have a skillset which can be applied to their job. From my year in Reckitt, I have been able to gain more clarity on what I want to do in the future, you are able to gain insight on what different teams do and decide whether that is something you will be interested in or not.
What would you say to a prospective student considering studying biochemistry at Sheffield?
Sheffield and biochemistry have a lot to offer to you. There is a wide range of support available, whether that's for academic purposes or just when you need a little help. Molecular bioscience has so many options within and a lot of career options too. It is a great course for someone who wants to study this area but unsure of what specifically, as there are so many opportunities to specialise as you progress throughout the course.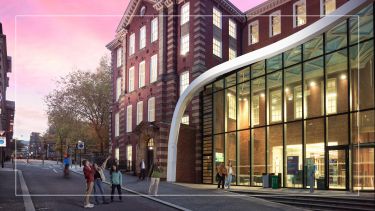 Visit us
Discover what sets Sheffield apart at our undergraduate open days on the Saturday 21 October or Saturday 18 November.