My third year research project using Cryo-Electron microscopy
MBiolSci Medical Biochemistry
Using state-of-the-art equipment
For his final year project, Matthew had the chance to use Sheffield's brand new cryo-electron microscope (worth around £2.5 million) as he studied amyloidβ, the causative agent of Alzheimer's disease.
My final year project was on analysis of amyloidβ fibrils using electron microscopy. Amyloidβ is the causative agent of Alzheimer's disease, so I was excited that my project would be focused on such relevant research.
Alzheimer's disease becomes more of a problem everyday with our aging population making it all the more important that valid work is done. My interest in the use of electron microscopes to examine biological structures was piqued while these topics were being covered in the lecture modules.
The fact that you can apply to the projects directly based on your interests was very helpful as it prevents work in a field that you have less interest in. Before applying, you can examine the research of the entire department to best find a project that interests you. Due to my interest in electron microscopy, I applied to Professor Bullough's project.
The project covered structural determination of the amyloidβ fibrils and manual analysis of the images collected. This work was very different to the techniques studied in the teaching labs and showed me a different side of biochemistry.
Lots of supervision was provided initially, but as the techniques became familiar we were increasingly left alone to pursue our tasks. This had the pleasant effect of making us feel more like research staff than students.
---
Over the course of the project, two kinds of electron microscopy were used, the second of which was Cryo-electron microscopy.

Matthew Stedman

MBiolSci Medical Biochemistry
---
Over the course of the project, two kinds of electron microscopy were used, the second of which was Cryo-electron microscopy. We were some of the first people to use the new Arctica cryo-electron microscope, and considering the cost of the microscope (~£2.5M) I was surprised that we were allowed to use it at all.
This was a nice reflection of the faith the department had in our research abilities and made us feel rather valued if a bit daunted. The use of the Arctica showed us the large differences in standard electron microscopy and microscopy on the cutting edge.
Although the microscope was still in its early stage of instalment, we were able to get hands on experience with a very sophisticated piece of equipment.
The work I performed in my project inspired me to apply for PhD positions after my degree, and the experience provided along with the close relationship developed with my supervisor will be invaluable in applications. Performing real research in a dedicated academic laboratory was a new and exciting experience for me that I enjoyed immensely. I look forward to the pursuit of further research in my fourth-year project and future career.
---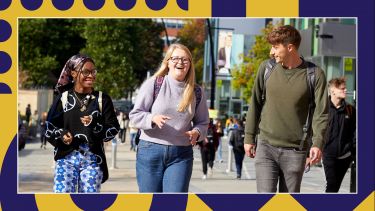 Advance Register for Clearing
We have places on our undergraduate courses this autumn. If you've already got your results you can apply now, or if you're still waiting for results get your name on the list by advance registering.