I've gained great exposure to the working environment in the UK thanks to my placement year

Melissa Wei Yi Tan
Placement organisation: Hammersmith Medicines Research (HMR)
MBiomedSci Biomedical Science with a Year in Industry
Melissa spent her industrial placement year at Hammersmith Medicines Research (HMR) working as a Student Biomedical Scientist. This experience allowed her to learn about different parts of the lab and a valuable insight into clinical trials.
What made you decide to study biomedical science at Sheffield?
I was given the privilege to be one of the recipients of the Merit Undergraduate Scholarship. This was the main reason why I chose the University of Sheffield as my university of choice. Besides, I also appreciated the initiatives taken by the university to interact with prospective international students by getting student ambassadors to phone us and by hosting events on international grounds to allow prospective students to familiarise ourselves with the university.
What are you enjoying the most about the course?
I enjoy the content of the course and I am also grateful that the lecturers and department are always willing to help students by patiently answering our questions and listening to our voices and feedback to improve the structure course.
What skills have you developed during your course?
I have developed many relevant laboratory techniques during my weekly lab sessions in university. For example, microscopy, electrophoresis, immunolabelling and cadaveric dissections. The course has also trained me to manage my time properly as a student, where I am able to catch up with my study material while doing additional reading to deepen my knowledge in my field of study. 
Where are you on placement and what was your role?
I'm currently a Student Biomedical Scientist at Hammersmith Medicines Research (HMR) in London. 
What sort of things are you doing on your placement?
As a Student Biomedical Scientist, I am rotated into 6 different sections of the laboratory and I spend about 3 months in each section. The sections are automation, validation, sample reception, quality assurance, PCR testing and stock management. Each section has a different learning experience and provides a different skill set to gain. In different sections, I experience and learn about different parts of the lab which combine to make up the workings of a laboratory as a whole. 
What skills have you learnt from your placement?
My placement has allowed me to develop useful wet-laboratory skills such as enzyme linked immunosorbent assays (ELISA), flow cytometry and platelet aggregation procedures. Besides, I also perform daily maintenance and operation on analytical equipments such as Triturus, Gemini, BD FACSCanto II, Helena AggRAM, as well as monthly pipette performance checks. All of these procedures are performed in line with Control of Substances Hazardous to Health (COSHH), Good Clinical Practice (GCP) and Good Laboratory Practice (GLP) requirements. On the management side of things, I also handle the receipt, analysis, and storage of pharmacokinetic samples. This placement also gives me valuable insight into clinical trials and the pharmaceutical industry.
What have you enjoy most about the placement year?
I enjoy being able to meet and network with people that have experience in the industry. Just listening to their stories help me learn a lot about the industry and about life as a Biomedical Scientist. I also enjoy learning new things regularly as it keeps my mind quick and agile.
How do you think the placement year will help your career?
As this is my first job in the UK, I believe the experience gave me good exposure about the working environment in the UK and in the field of pharmaceuticals and healthcare. I have also learned to develop a lot of soft skills that will be relevant in any job such as time management, effective communication, teamwork and leadership. I believe having a year of working experience as a part of my degree will give me an upper hand during my job application process after completing my degree.
What would you say to a prospective student considering studying biomedical science at Sheffield?
I would advise prospective students to do as much research as possible into the course, the modules, the structure of lessons, as well as the university life and Sheffield as a city. All of the information you'll need is available on the internet and it will definitely help you to feel more prepared as you are getting started with your university life.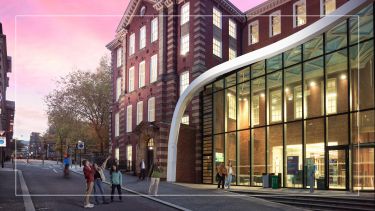 Visit us
Discover what sets Sheffield apart at our undergraduate open days on the Saturday 21 October or Saturday 18 November.