There's so much to see and do on our applicant days and we want you to make the most of your time on campus. Our handy guide will help you to plan your day before you arrive.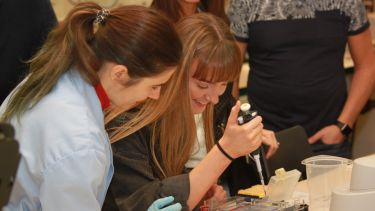 Example of Saturday on-campus events schedule
Time

Student activity

10.00 - 10.55am
Arrival, registration, and time to explore

11.00 - 11.50am

Welcome talk from the School of Biosciences covering course content, careers and living in Sheffield

12.00 - 12.30pm

Lunch with the opportunity to chat to staff and students

12.35 - 2.15pm

Hands-on research activities

Take part in three activities that you'll encounter during your degree, led by our students.

Discover how we teach and learn about the cutting-edge technology and facilities where we carry out our world-leading research.

2.20pm

End of School of Biosciences activities

2.20 - 4.00pm

Free time to explore the University 

Visit the central exhibition, and take a tour of our accommodation, libraries, Students' Union and Sport Sheffield facilities.
While students are taking part in activities, parents will receive a tour of the school and our facilities. Parents will also get a chance to speak to current students and staff about the exciting opportunities that are available to biosciences students, and where a degree from Sheffield can lead.
Book your on-campus applicant day
---
All students will take part in two research-based activities related to your chosen course to give you a real taste of what it's like to be a biosciences student at Sheffield. We run a range of activities on our applicant days and these examples will give you an insight into what you could be doing on the day.
Students will also get a chance to explore the School of Biosciences with a tour around our teaching spaces and key facilities.
Biomedical science activities
For Biomedical Science applicants
Forensic anatomy
Learn how biomedical science plays a key part in forensic anatomy. Examine anatomical models and hear more about how you'll learn through cadaver dissection during your degree to understand human anatomy and physiological disease.
Drosophila as a model organism
Visit our fly lab, look down the microscope and discover how our fly research is useful for understanding human health and disease. We'll tell you how we're using flies in our research at Sheffield and how you'll use them during your studies.
Imaging life in zebrafish
Learn more about our research using fish and see some transgenic, fluorescent fish embryos in our zebrafish pod or connected to our large screen.
Molecular bioscience activities
For Biochemistry, Genetics, Microbiology and Molecular Biology applicants
Genetic analysis of patient samples for cancer diagnosis
Learn how our students are trained to conduct genetic analysis of cancer patient samples that allow clinicians to make decisions about treatment. We're working in partnership with Sheffield Teaching Hospitals, giving our students the opportunity to save patients' lives as part of your degree. 
Protein crystallography
Grow your own protein crystals and start to think about how we use biochemical techniques to understand life at the atomic level.
Cyanobacteria as the living model of synthetic biology
During this activity, we'll study cyanobacteria to show the connection between chemistry and biological function. These organisms engineer the photosynthesis system to increase efficiency and capture wavelengths beyond the usual range.
Organisms and the environment activities
For Ecology and Conservation Biology and Plant Sciences applicants
How ecosystems protect arctic permafrost from thawing
Test how different mosses and soils affect the thawing of ice. This activity will illustrate how the biological environment affects the thawing of Arctic permafrost in response to global warming.
Investigating photosynthesis through quantitative microscopy
Learn how to use imaging software to identify cell types in maize or rice leaves. You'll measure the sizes of specific cell types, compare these in maize and rice, and relate this to different mechanisms of photosynthesis.
Ecology mini-lecture
Fieldwork is a major part of many of our degrees, so in this lecture, we'll take you through the range of field opportunities we offer at Sheffield, from field trips across the UK, to field courses overseas, and how this work is helping to address big ecological challenges.
Zoology activities
For Zoology applicants
Biodiversity in flight: evolution of bird wings
Measure the diversity in size and shape of a range of bird wings, and use your findings to identify the five basic designs dictated by the lifestyle and ecology of that species.
Biology activities
For Biology applicants. Biology is our most flexible degree so you might do any of the above, or the following activity.
Covid evolution and genetics
In this computer simulation activity, you'll get the chance to track the evolution and spread of Covid-19 using real genetic data from online resources.
Explore the University
Discover what sets Sheffield apart at our next on-campus open day.