Genetics is the study of how genes encode the information required to make all life on the planet. New sequencing technologies have dramatically increased the amount of information available to geneticists, making it an exciting time to study this area.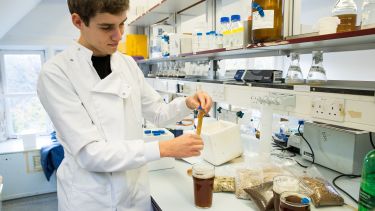 Teaching and learning changes for 2020-21
Due to the coronavirus pandemic we have made some changes to teaching and learning for some courses in the 2020-21 academic year.
Find out about teaching and learning changes
These pages will be updated regularly, so please check back for the latest information about your course.
About Genetics at Sheffield
Our genetics courses offer a broad curriculum that spans human, plant and microbial genetics, genomics, and molecular biology, allowing you to explore the genetic basis of cell function and disease. You'll study the structure and expression of genes, inheritance and mutations, and learn about the latest molecular techniques for modifying genes, including CRISPR. We'll introduce you to how modern genetics is enabling us to understand and treat a range of diseases such as cancer, and help us to tackle global challenges like food sustainability and security.
All of our students take compulsory modules designed to give you specialist knowledge of genetics, whilst also introducing you to biochemistry, microbiology and molecular biology. As you progress through your degree and discover what you're passionate about, optional modules will allow you to explore your chosen subject in greater depth, specialise in one area, keep your interests broad, or even switch to another degree programme within the molecular biosciences. You can even choose to add an extra year of research experience as part of your studies, or gain valuable work experience with a placement year. 
Our courses are research-led which means that you'll not only learn about the origins of genetic disease, but also be exposed to the latest cutting-edge discoveries in genetics. Our world-class scientists, your teachers, are using ground-breaking approaches that are resulting in breakthroughs towards the treatment of diseases such as Alzheimer's and Motor Neurone Disease; and it's research like this that you'll be getting involved in throughout your studies.
Teaching
As a genetics student you'll learn in lots of different ways, from lectures and group tutorials to learning by doing during practical lab sessions and research projects.
Explore the course structure and content
Our staff are committed to great teaching and you'll have lots of opportunities throughout your degree to be creative, think independently, and express your ideas. From data handling and analysis classes that will teach you how to interpret findings and make calculations based on your data, to learning how to handle equipment and design experiments across molecular genetics, DNA manipulation and protein structure determination, you'll get the chance to put your new knowledge into practice in a variety of ways. Throughout your course you'll gain new transferrable skills and the relevant experience that employers are looking for.
Top 10 in the UK for Biological Sciences
The Times and Sunday Times Good University Guide 2020
Find out more about our teaching
---
Molecules to Market
Many of our students are interested in applying their scientific skills and knowledge in industry following graduation, so second year module "Molecules to Market" allows you to get out of the lab to come up with pioneering science enterprise ideas to launch a virtual business.
Students create an original business concept to apply the science they have learnt in their studies into a commercial setting. You'll work in small groups to analyse the market and competitors, create plans for promoting your products, and even consider intellectual property implications, finance and the needs for future expansion. Previous ideas have included using fungus to recycle car batteries, a pill that alleviates the symptoms of a hangover, and using bacteria to recycle plastic.
---
Research projects
You'll undertake research projects throughout your degree, getting practical hands-on experience in the laboratory. In your third year, you'll complete an extended research project in an area of molecular bioscience that interests you either inside or outside the lab. There are several types of projects to choose from depending on your interests and career goals, from experimental science to computing, teaching, clinical diagnostics or science communication. Current projects span: 
Experimental science: Investigate a scientific problem, using state-of-the-art facilities and working alongside research scientists.
Clinical diagnostics: Learn how to use the analytical software used by clinical diagnostics staff in NHS laboratories to diagnose leukaemia in collaboration with the Sheffield Children's Hospital.
Industrial biotechnology: Understand brewing techniques and isolate and grow yeasts in collaboration with local breweries to understand how mutations in yeast genes affect the flavour of beer.
Molecular systems and computing: Analyse and evaluate complex data to investigate fundamental biological processes, with opportunities to learn computer programming.
Science communication: Build up a portfolio of writing on a scientific topic of your choice, and evaluate the effectiveness of different communication strategies.
Education and outreach: Organise events to get school children better engaged with science – students generally work in primary schools or university technical colleges (UTC) to gain teaching experience communicating science to school children.
---
Did you know?
Sir Hans Krebs was the first Professor of Biochemistry in Sheffield, and in 1953 won the Nobel Prize in Physiology or Medicine for discovering the citric acid cycle (also known as the Krebs cycle), while working at the University of Sheffield.
The cycle explains one of the most fundamental processes of life: the conversion of biological molecules into energy within a cell.
---
Spend a year on a work placement
Our BSc Genetics with a Year in Industry degrees allow you to do a year-long, paid work placement between your second and third year. You'll pay reduced fees for the year you're on placement and you'll still have access to your tutor and the support you need from the university. Most students earn salaries during their placements too.
Our students have done their placements in lab and non-lab based roles at organisations that include:
AstraZeneca;
GSK;
Pfizer.
Placements aren't guaranteed – it's your responsibility to secure one but we'll do everything we can to help.
A year working in marketing meant I was able to develop a number of skills useful both for my final year of university and any job I do in the future. The skills include communication, time management, working independently, professionalism, team work and also assertiveness.

Lidia Keith

BSc Molecular Biology with Employment Experience at Pfizer
---
Integrated masters
Our four-year integrated masters courses (MBiolSci) are designed for students who want to pursue a career in industrial or academic research, with the majority of the fourth year devoted to a major research project. All of our courses are available as a three-year BSc degree, or a four-year MBiolSci degree and students have the choice between spending a year in industry and completing your project at a company such as AstraZeneca, GSK, or Unilever; or undertaking projects in one of our world-leading research labs within the department or the University of Sheffield Medical School.
Example research projects include:
Investigate interactions between CO2, light and hormone signalling systems;
Gene editing stomatal genes to reduce rice water use;
Identification of organelle degradation factors using yeast genetic array technology.
Our four-year MBiolSci degrees are accredited by the Royal Society of Biology which shows employers that you've developed the extra skills and knowledge that they're looking for.
Doing an MBiolSci year in industry has been one of the best and most rewarding experiences of my undergraduate degree. It has given me the opportunity to experience science in different settings, in academia and in industry in my final year.

Katie Gelder

MBiolSci Biochemistry and Genetics
---
Your career
Our students go on to do great things. Almost half of them decide to continue their studies, by doing a PhD or other postgraduate training, as they begin scientific research careers. This can lead to jobs in universities, research institutes, businesses and the NHS. Our graduates also go straight into industry, particularly in the vast pharmaceutical industry and the growing biotechnology industry. Some work in food manufacturing or brewing. The expanding field of genomics is another popular route for our graduates, entering roles in genetic counselling and diagnostics.
With a variety of key transferrable skills that employers are looking for, including teamwork skills, critical thinking, and how to present effectively, our students are also well equipped to pursue roles outside of bioscience, from IT and business management, to finance and accounting, to events management and teaching.
Example job titles of recent genetics graduates include:
Clinical Scientist;
Forensic Analyst;
Cytogenetics Technologist.
Whatever path they choose, we know that 97% of our graduates are in work or further study within six months of finishing their degree (Destinations of Leavers from Higher Education survey 2016-17).
I am so grateful for the opportunities that were available to me within the department. These have allowed me to pursue my desired career path but more importantly continue to positively contribute to the progression of public health care.

Sarah French

BSc Biochemistry and Genetics. Now: NHS Scientist Training Programme in genomics
---
Our courses
The content of our courses is reviewed annually to make sure it is up-to-date and relevant. Individual modules are occasionally updated or withdrawn. This is in response to discoveries through our world-leading research, funding changes, professional accreditation requirements, student or employer feedback, outcomes of reviews, and variations in staff or student numbers. In the event of any change we'll consult and inform students in good time and take reasonable steps to minimise disruption. 
Results and Clearing 2020
We have places available on some courses for additional high-achieving students through Clearing and Adjustment.