The Chemical and Biological Engineering Doctoral Programme at Sheffield.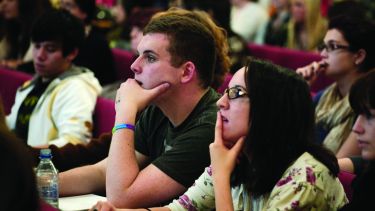 We've a number of funded positions available. Look on our opportunities page and follow the instructions to search for our offers.
Have you got what it takes to join a Department that is number 1 for research environment? The Department of Chemical and Biological Engineering at the University of Sheffield Doctoral Programme has a wide ranging opportunities for you to go further.  Previous offers have included pharmaceuticals, high-value plastic electronics, food science and bio products for waste water treatment.
You'll be joining an exceptional Department, we're top 5 in the UK for chemical engineering output (REF 2014). You'll also be joining a thriving research community with over 180 PhD students who are studying a diverse range of disciplines.
Our rich environment for learning will prepare you to be a 21st century scientist and engineer. Our direct links with major industry players mean your learning will be cutting-edge and industry relevant. Many of our PhD researchers have gone on to work for Siemens, AstraZeneca, GlaxoSmithKline, Nestle, P&G, Shell and Petronas.
We've invested £3.5 million in new research facilities for you and we want you to become part of the research engine of the Department - bringing your innovation, expertise and your creativity.
---
---
Training 
When you join our department, you'll begin a programme of specialist training led by your supervisor. They, along with other staff in your research group, will help you get the skills you need to complete a great piece of research. 
On top of the specialist knowledge you'll get through our department, the Engineering Graduate School will support your career development by helping you gain professional skills that are essential in all areas of engineering.
Your induction to the Engineering Graduate School will give you an overview of training opportunities, including essential health and safety knowledge.
After that, you'll be able to learn how to recognise good research and research behaviour, improve your communication abilities and experience technologies that are used in academia, industry and many related careers. 
Your training needs will be assessed at the start of your PhD, so we can make sure you get all the support you need.
---
Doctoral Development Programme (DDP)
As a doctoral researcher (PGR student) you are automatically enrolled with the DDP - there's at least one compulsory module (Professional Behaviour and Ethical Conduct) and possibly more, please contact the department for further information. 
There's also a wealth of training opportunities, funding, possiblities to attend international seminars/conferences and there's resources for you to use. 
We realise each student joins us with a different set of skills and experience so the programme is flexible and will suit each individual's need.
A Training Needs Analysis (TNA) is completed at the start of each year with your supervisor so that you can register with the training that will benefit you the most.
We want to ensure that all our doctoral researchers receive the highest quality of training and want to support you in a becoming world-class researcher.  
Further information can be found on the DDP website.
---
What type of training is available?
The DDP covers a wide range of training. For example, you can take part in one or two part seminars that cover topics such as developing your online presence, producing an effective CV or career development.
There are also taught modules which take place over the academic year to help you develop your subject knowledge. You can view a full list of the training available on the DDP website: DDP training.
Any other questions?
The DDP website has a list of FAQs that covers everything from assessment, attendance and registration: DDP FAQs
Find a PhD
Search for PhD opportunities at Sheffield and be part of our world-leading research.