SCI Newsletter - May, 2023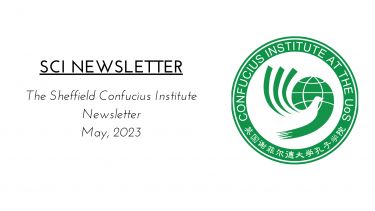 Join our next calligraphy class on 17 May
A regular feature in SCI activities, join teacher Tao Ting as she takes you through the therapeutic and relaxing art of Chinese calligraphy. You'll learn a variety of words, phrases and expressions with all equipment provided. The next class will be held at 7.30pm on 17 May at Bartolome House. Classes are free to attend but we encourage you to reserve your place by emailing confucius@sheffield.ac.uk

Chinese Heritage Concert success
Students from the Department of Music's MA course, together with the Sheffield Concerts team, held a concert showcasing the heart and soul of Chinese music and dance on 15 March. 
We were delighted to be invited to support the concert through our signature cultural 'pop-up stalls' - exploring Chinese calligraphy, tea ceremonies and the Chinese Zither (guzheng) workshops. Each stall was manned by our dedicated sponsored teachers, whose expertise ensured a rewarding experience for all concert-goers!

Make friends and practise your language skills at the Sino English Club on 9 May
This event is a great opportunity for speakers of Mandarin Chinese and English to get together, make friends and improve their speaking abilities. Our next event will take place at ALS Gongcha, 10 Eyre St, Sheffield City Centre, Sheffield S1 4QY from 6.30pm - 8.30pm on 9 May. The club meets every Tuesday during the main university semesters and is free to attend so just come along! If you have any questions about the gathering, please get in touch at confucius@sheffield.ac.uk.

Goodbye Teacher Li Jia and welcome to Dr Zhang Daojian
The SCI said goodbye to its excellent sponsored teacher, Li Jia in April. She has worked tirelessly at the SCI for the last two years to the benefit of her students and staff - we wish her well with all her future endeavours! The SCI is also delighted to welcome our new Deputy DIrector, Dr Daojian Zhang, whose vast experience at CIs around the world promise to provide a valued addition to our activities in Sheffield.

International Chinese Language Day
The SCI's celebration of this year's International Chinese Language Day was one to remember, with multiple events to commemorate the day. From a special calligraphy class and a Chinese Cuisine Workshop to a Chinese and British Culture Quiz and activities at our Star Mandarin School for children, we were proud to celebrate multilingualism and cultural diversity.

Seminar: Minority Culture in Guizhou Province on 5 May
The next China-UK Humanities Exchange Forum - Conservation of Minority Culture in Guizhou Province - A Soundscape Perspective - will take place online at 9am (UK time) on 5 May.
Guizhou is a province with one of the largest numbers of ethnic minorities in China. The soundscapes of Guizhou undertake and explore social and cultural functions such as the recording of historical culture and the distinguishing of ethnic groups. This talk will analyse Guizhou's traditional culture from the perspective of soundscapes (the everyday sounds of the region and culture), laying a theoretical foundation for the inheritance and dissemination of ethnic cultural heritage. This joint presentation is based on collaborative work of the two speakers from Shijiazhuang University, Professor Kang Jian and Professor Mao Lingqing.

Find out more 

Learn Mandarin this summer! 
If you've ever wanted to learn some Chinese but been worried it might be too challenging, don't worry! Our acclaimed Mandarin Chinese Adult Summer School based at the University of Sheffield is opening its doors again for its summer course which will run from 12 June - 23 July. Teachers are highly qualified and hail from top universities in China and you'll learn in a supportive and friendly environment. Learning Mandarin costs less than you think - the full course (24 hours of contact hours) costs just £80 for University of Sheffield staff/students or just £100 for non-University participants.
Come and learn with the best this summer and start your Chinese learning journey with us...

Four day Mandarin Summer School for ages 5-16 in July
We know that keeping children occupied and engaged over the summer can be challenging. Our Mandarin Chinese Summer School offers four action packed days of activities and learning for ages 5-16. Held on the University's campus in Bartolome House from 24 - 28 July, this summer school is tailored for native English speakers new to the language.
As well as learning key words and phrases in  Mandarin Chinese, your child will also explore Chinese approaches to math skills and art as well as fun and interactive activities to help them grow and make friends. 
The summer school costs just £80 for children of University of Sheffield staff/students or just £100 for children of non-University staff/students. 
Sign up this July to give your child some great memories, learning experience and who knows... the beginning of a new language learning journey!
---
Thank you for reading!
Take a look at the links below to read more about the SCI's recent activities and events!
A global reputation
Sheffield is a research university with a global reputation for excellence. We're a member of the Russell Group: one of the 24 leading UK universities for research and teaching.