Economics of health and wellbeing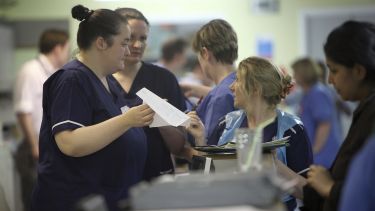 Our research in this area focuses on how economic decisions influence individual health and wellbeing. We specialise in studying the relationship between health and social and economic circumstances and measuring individual preferences regarding health and health care. Our researchers have expertise in analysing large representative population surveys and in preference elicitation methods, such as Discrete Choice Experiments.
We have close links with the Health Economics and Decision Science (HEDS) section in the School of Health and Related Research (ScHARR).
For an overview of the latest research please see the department's Research Blog. The latest working papers can be found in the Sheffield Economics Research Paper Series.  
---
Staff working on the economics of health and wellbeing
---
Funded research projects and centres 
The causal impact of health status on labour market outcomes: consequences for individuals and households. Funded by The Health Foundation
Systems science In Public Health Economic Research (SIPHER). Funded by UK Prevention Research Partnership.
Selected policy reports
Project 360: An intervention to address victim-police engagement in repeat domestic violence cases (Final policy report). Prepared for the Ministry of Justice and the Office of the Leicestershire Police and Crime Commissioner.
---
Selected publications
Health economics
Lee, S., and Orsini, C. (2018) Girls and boys: economic crisis, fertility, and birth outcomes, Journal of Applied Econometrics, 33(7), 1044–1063.
Gibbs, N., Powell, P.A., and Tsuchiya, A. (2019) Equal access for equal need: Eliciting public preferences for access to health treatment by employment status, Social Science & Medicine, 222, 246–255.
Hole, A.R., Riise, J., Gyrd- Hansen, D., and Skatun, D. (2016) GPs' implicit prioritization through clinical choices – evidence from three national health services, Journal of Health Economics, 49, 169–183.
The economics of wellbeing
De Neve, J., Ward, G., De Keulenaer, F., Van Landeghem, B., Kavetsos, G., and Norton, M.I. (2018) The Asymmetric Experience of Positive and Negative Economic Growth: Global Evidence Using Subjective Well-Being Data. Review of Economics and Statistics, 100(2), 362–375.
Roberts, J., Popli, G., and Harris, R.J. (2018) Do environmental concerns affect commuting choices?: hybrid choice modelling with household survey data. Journal of the Royal Statistical Society. Series A, 181(1), 299–320.
Ratcliffe, A., and Taylor, K.B. (2015) Who cares about stock market booms and busts? Evidence from data on mental health. Oxford Economic Papers, 67(3), 826–845.
Flagship institutes
The University's four flagship institutes bring together our key strengths to tackle global issues, turning interdisciplinary and translational research into real-world solutions.