The David Howe Prize was established in 2015 through the generosity of Ningo Songke Magnetic Materials Co Ltd in memory of Professor David Howe, Professor of Engineering.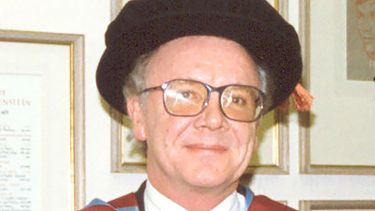 Off
Professor David Howe
David joined the Department in 1978 as Lecturer and went on to become a Professor in 1989. On his retirement in 2008 he assumed the title Emeritus Professor.
A pioneer in developing innovative permanent magnet machines, Professor Howe's great passion was for research into electrical machines and he established a strong and enduring research group in electrical machines and drives.
David was Head of Electrical Machines and Drives Research Group at the University of Sheffield from 1989-2008. He founded, and was the first Director of, the University's Rolls-Royce Technology Centre in Advanced Electrical Machines and Drives, and co-founder of two university spin-off companies: Magtec Ltd (previously Magnet Systems Technology) in 1993 and Magnomatics Ltd in 2006.
In 2003, he was elected a Fellow of the Royal Academy of Engineering. In 2012, his contributions to magnetics were recognised by the UK Magnetics Society with the Lifetime Contribution to Magnetics award.
David is remembered as an outgoing, sociable man with a wide circle of friends all over the world. His outlook on opportunity and collaboration, as well as his resourceful nature, played a major part in his successful career. He was very supportive of his fellow colleagues' achievements and careers, and was held in high regard by them. Many past students and present staff owe their successful careers to his teaching, encouragement and mentoring.
The David Howe Prize was established in 2015 through the generosity of Ningbo Songke Magnetic Materials Co Ltd.  It is awarded for the best overall performance by a student completing the MSc in Advanced Electrical Machines, Power Electronics and Drives.  
The David Howe Prize 2019 winner: Mr Alexander Quispe Parillo
The David Howe Prize 2018 winner: Mr Lap Fong
Weekly online events
Attend an online event when it suits you, all year round, as an alternative to an open day.
Every Wednesday, Sheffield Live sessions cover different aspects of University life. You can also meet your department and learn more about studying your subject.