Information for current students
Welcome to the Department of Journalism Studies at the University of Sheffield – an extraordinary institution in an extraordinary city.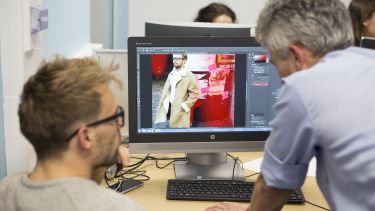 Select your programme of study for more information:
During your time with us you'll study, practise and reflect on a wide range of journalism skills and issues. You'll come across different learning styles and techniques, from traditional academic research methods to shorthand practice and newsroom experience. It will be hard work. But when our students leave the department, they've had the experience of a lifetime. And employers know a Sheffield journalism graduate has the skills and personal qualities needed for success – whether you work in the media or choose another profession.
The Department of Journalism Studies is a centre of excellence in teaching and research, and promotes rigorous ethical journalism. As a student at one of Britain's most prestigious universities, you will be taught by experienced practitioners and academics who are immersed in the study and practice of journalism across a range of digital and traditional media. You'll practise journalism, and you'll reflect on how others practise it, and its place in society. You will criticise it and talk about it. You will read and listen and watch... and analyse, write and broadcast.
It's this combination of thinking and doing that makes our graduates the best – and could help to make you a great journalist too.
As a leader in our subject area, in a world- class university, we ask a lot from our students. We expect drive, determination and intelligence. We know you've got what it takes: that's why we gave you a place on the course. But we also know that the transition from home and school to university can be difficult. So we want to make that transition as smooth as possible. That's why we'll support you as you begin the course – and throughout your time with us.
Both the department and the University have specialist staff and resources ready and waiting to help you with any personal, emotional, financial and academic difficulties you might experience. See section 2 of this handbook for more about this. Remember – if you ever need help, or you're uncertain about something, just ask.
Enjoy yourself. Enjoy the course. We look forward to working with you and getting to know you.
A world-class university – a unique student experience
Sheffield is a research university with a global reputation for excellence. We're a member of the Russell Group: one of the 24 leading UK universities for research and teaching.