Sheffield Journalism Students tackle the big issues with charity campaigns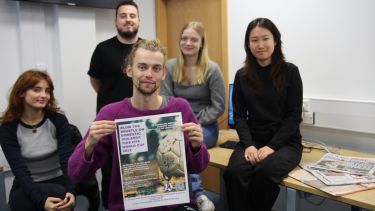 These campaigns were planned and launched as part of their final year news project, through their own news websites – the South Yorkshire Echo, Steel City Insider and YourSheffield.
Football fans at Sheffield Wednesday's home game this Saturday (November 19) will be asked to dig deep to support the South Yorkshire Echo in their quest to 'Blow the Whistle' on domestic violence.
According to an exclusive report on the news website, in 2018 (the year of the last World Cup), reports of domestic assaults causing injury in South Yorkshire increased by 1,488 per cent. Whilst the world gears up for kick off at Qatar 2022 this weekend, the Echo are hoping that by raising awareness of the link between football and domestic violence, they can help signpost survivors to support and also raise money for a charity that works across South Yorkshire. 
The fundraiser aims to raise £8,000 to build a new wellness centre for residents of the YWCA's Peile House in Sheffield.
Campaign Lead Stanley Willey, aged 23, said: "All the team here at the Echo are working so hard on this campaign. We're all really passionate about getting this wellness centre built for the women at Peile House. 
"Anything people can spare to donate will make a huge difference to their lives."
The team of six, which also includes editor Madelynne Flack, deputy campaign manager Madison Burgess, Roman Reiter, Rupal Mundhra and Siyu Ma, only started work on the News Project module in late September. In weeks, they had set up their own news site and begun preparations for their campaign. 
Since launching Blow the Whistle at the beginning of this month, the Echo has raised more than £200, gained the support of former Huddersfield Town goalkeeper and football commentator Matthew Glennon, and told the harrowing story of a domestic violence survivor. They are also set to appear on BBC Radio Sheffield's mid-morning show on Monday to talk about why the campaign is so desperately needed.
Madelynne, 20, said: "The figures around the rise in domestic violence during high profile football tournaments are truly shocking. We hope that by speaking out for the victims of abuse, we can help to signpost them to support and raise vitally needed funds for the YWCA."
Whilst the South Yorkshire Echo focus on the issue of domestic violence, the team behind the Steel City Insider have decided to tackle homelessness in the city. The group have collaborated with Sheffield homelessness not-for-profit the Sunday Centre to launch Keep Sundays Warm.
This campaign aims to raise enough money to fund one of the centre's Sunday sessions where those in need are invited to enjoy a hot lunch, and to collect warm clothing and toiletries that will be given out by the charity.  
Elena Baeza Ruso, the 20-year-old Campaign Co-ordinator, said: "Helping the homeless and vulnerable is something I have always wanted to do but never knew how.
"Generally speaking, most people just feel bad when they see a homeless person on the street, but sadly only a few do anything to help. We, Steel City Insider, want to change that.
"The Keep Sundays Warm campaign is dedicated to collecting clothes to help those sleeping rough keep warm this winter as well as raising money to aid the Sunday Centre to continue its great work."
Meanwhile, The all-female team behind YourSheffield decided to shine a light on poverty of a different kind.
Their campaign 'No Period Left Behind' tackles the issue of period poverty in Sheffield, seeking to raise funds for the period equality charity Irise. Since launching earlier this month, the campaign has quickly gained the support of Councillor Jayne Dunn who recently put in a motion to make Sheffield a period aware city.
According to No Period Left Behind Campaign Co-ordinator Hollie-Ann Taylor:
"We were there during the council meeting when the unanimous motion was put through and she mentioned our campaign as one of the many raising awareness of this issue.
"Last week we set up a GoFundMe page and we are planning a fundraiser for Sunday 4 December, in collaboration with RAG, [the University] Fashion Society and Friends of Irise to raise money for Irise international.
"We are also aiming to get in contact with 20 schools and plan to promote the governments free sanitary products scheme to any schools that aren't already opting into the scheme. Once we know which schools take part, we will let Irise International know which schools need more education on period poverty."
Earlier this year, the news project module, taught by Deputy Head of Journalism Studies Lisa Bradley, won the prestigious Innovation of the Year Award at the NCTJ Awards.
Our outstanding reputation for journalism
The Department of Journalism Studies ranks in the top 5 of all three of the UK's independent university league tables.
Explore the University
Discover why Sheffield is the right choice for you at one of our open days or events.